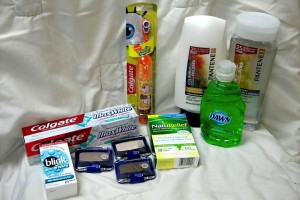 I had to get a rain check from the Nature Relief as the store only got a couple in and were out after the first day. They did honor my $8.99 ECB it should have printed. On Saturday I bought the Blink Tears and used my $10 off ECB from the Gillette promotion. I had the $1.oo off coupon. I bought 3 of the M&M candies so I could have a little room as they will not let you have overage. I always buy a cheap filler item. They were marked B2G1F.
My subtotal was $0.37 cents and I paid $0.87 cents in taxes for a grand total of $1.24! I got $8.99 ECB back! (total savings 15.19!)
Then on Sunday April 29th I found the Nature Relief so I grabbed it as it was the second to last on the shelf. I did two transactions.
Transaction #1
I used my rain check and bought 4 Mentos gum (99 cents each) and a filler. I had (2) coupons for $1/2 and the $1 on Nature Relief. Subtotal was $0.42 and I paid $0.82 cents in taxes for a grand total of $1.24! I got back $8.49 ECB!
Transaction #2
This is too long to list but I got the Pantene 2/$6.97; Colgate Spinbrush, Cover Girl, Colgate Toothpaste, and Dawn Dish Liquid. I had Pantene BOGO; and a good bit of coupons plus I rolled the $8.49 ECB. I could have broken it down but I had a big ECB to use so I didn't mind paying $9.40 after taxes! I saved $30.29 plus I had $8.50 in ECB's but several smaller ones.
Then on Monday I had to pick up my son's prescriptions so I bought one more of the Colgate toothpaste plus 2 more Mentos gum. I had the 50 cents Colgate coupon and another $1/2 Mentos  Pure gum. I rolled the $2.50 ECB.  My subtotal was $0.98 cents and I paid $0.32 cents in taxes for a grand total of $1.30! I received a $2.50 ECB. (total savings- $5.59)
I spent a GRAND TOTAL- $13.18!!!  I bought $75.80 in sale items and I still have $8.50 in ECB's to use!
My total savings was $62.62 which is 82% savings!!!!
My store is out of the Nivea hand cream so I'm hoping to snag 2 of those. I can use many of the purchases from Transaction #2 for the P&G Rebate Form!
How did you do this past week?
Anything to Add? Leave a Comment!