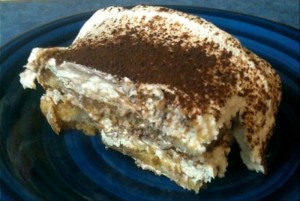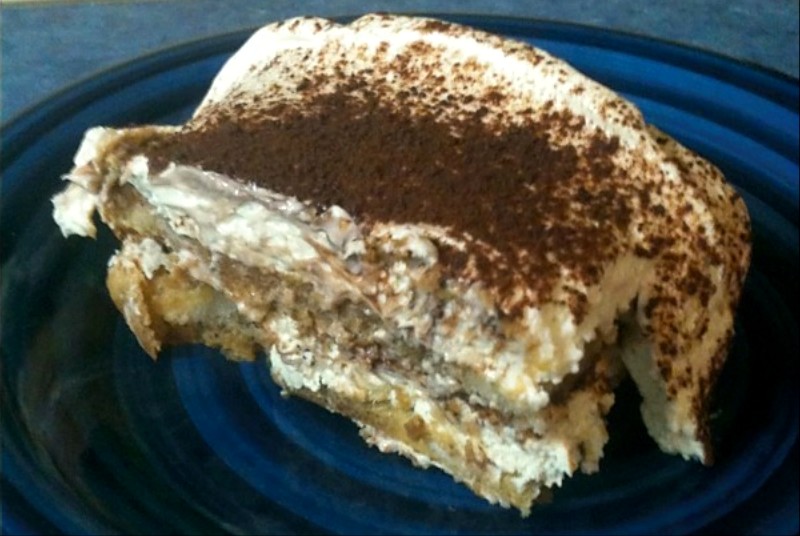 My mom is an amazing baker. She makes all her delicious desserts from scratch. When she asked me what I wanted for my birthday, then I immediately replied Tiramisu please. I recently asked her where she found the recipe so I could share it on my blog. She got it off the back of the bag of lady fingers she uses (the brand will be listed in the recipe below). The Tiramisu cake was just as divine as it looks in the picture.
*Note: She usually uses Brandy but did use Marsala which made it taste a little stronger. You could smell the wine more than the brandy. Strange but true.
Tiramisu Recipe
To make tiramisu begin by making zabaglione cream as follows:
5 egg yolks from Large Grade eggs – 1/4 cup sugar – 1/2 cup Marsala
In the top part of a double boiler, beat eggs and sugar together until the mixture is pale yellow in color. In the bottom part of the double boiler, bring water to a boil then reduce heat to simmer. Place egg yolk mixture over water and gradually add Marsala, beating continuously. Scrape bottom and sides of pan occasionally and cook 6-10 minutes until soft mounds can be formed. Transfer to bowl, cover and refrigerate 30 minutes.
1 cup whipping cream, chilled
4 tbsp. sugar
1 lb. Mascarpone Cheese (if unavailable, substitute two 8 oz pckgs. cream cheese combined with 1/2 cup whipping cream and 5 tbsp. Sour cream)
1 recipe Zabaglione
2 cups (16 oz) freshly brewed espresso or other strong brew coffee
1/2 cup Brandy or Marsala
1 tbsp. vanilla
2 7oz pkg Alessi Savoiardi Cookies
3 tbsp. cocoa powder
*Chocolate curls or edible flowers for garnish (optional)
Whip Cream with 2 tbsp sugar until soft peaks form. Fold in Mascarpone and Zabaglione and mix till well blended. Cover and refrigerate 1 hour. On a separate bowl, mix espresso, 2 tbsp sugar, Brandy and vanilla. Arrange 16 cookies on the bottom of a 9″x13″ pan. Carefully spoon about 1 tbsp of the coffee mixture over each cookie so they are well saturated but not falling apart. Spoon 1/3 cheese mixture over cookies and sprinkle with 1 tbsp cocoa. Repeat two more times ending with cocoa. Cover and refrigerate at least 5  hours or overnight so that cookies can soften as they absorb moisture. Garnish and serve. Makes 12 servings.
*My mom does not use either one for garnish and just leaves the cocoa powder on top.
Enjoy the wonderful tiramisu cake and please let me know what you think.
Anything to Add? Leave a Comment!