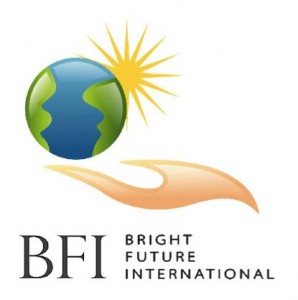 Bright Future International is a non-profit organization helping to make children's lives better and brighter. BFI  has launched a worldwide charitable initiative entitled "Bright Future for Children" to raise funds and awareness about the needs of children in Burundi, Kenya and Russia. They are helping underprivileged children achieve a better future by promoting values such as: compassion, self-esteem, the willingness to help others, and hope.
I learned more information about on their website about CHABHA (Children Affected by HIV/AIDS) in Burundi, BFI Children's Studio in Russia, and Heshima Kenya. It is very sad to read how these children aren't receiving the proper care they deserve. It really broke my heart to read about the young girls in Eastern Africa without families or support to help them.
You can help this wonderful organization by visting the Bright Future International (BFI) Facebook page. For every new "Like" $1 will be donated to BFI! It only takes a few minutes, but you will be doing so much to help make these children's lives better and brighter.
Any person who makes a donation in the amount of $15 or more will receive a free DVD of the hit music video "A Merry Christmas," featuring Dionne Warwick, Stevie Wonder, Larry King, Jordin Sparks, Jermaine Jackson and other stars. Put together by BFI, the goal of the music video was to promote community and peace by uniting people around the world regardless of race, religion and social status.
So please visit Bright Future International (BFI) Facebook page to learn more about this wonderful initiative. You can also follow them on Twitter.

Disclosure: I participated in a campaign on behalf of Mom Central for Bright Future International. A small donation to Bright Future International was made in my name from Mom Central as a thank-you for participating.
Anything to Add? Leave a Comment!