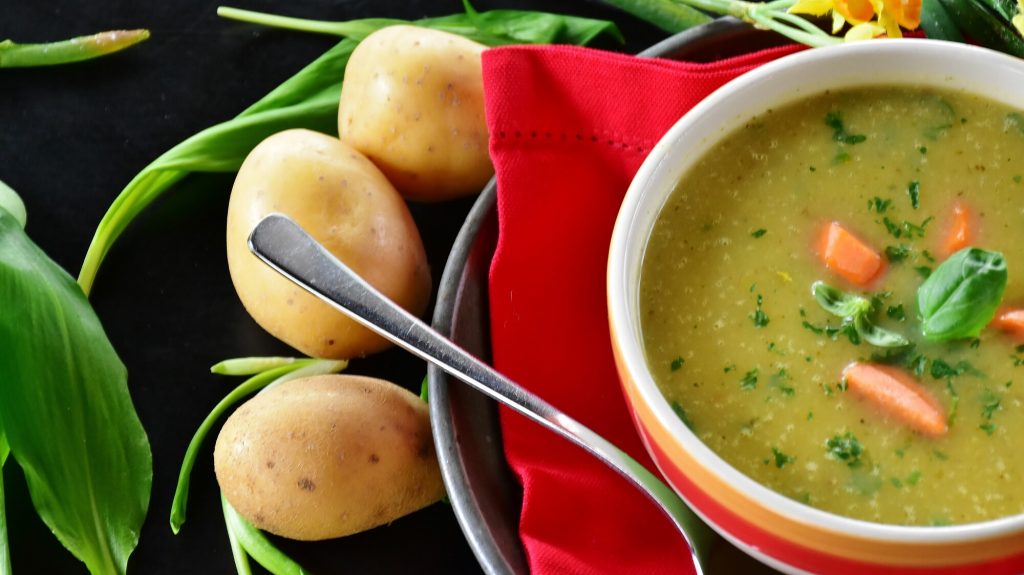 Did you know that 42 percent of the American population is obese? Thus, it isn't surprising that people search for new and creative ways to lose weight, such as the soup diet. 
Eating healthy soup is a great way to incorporate more veggies into your diet and stay full. Plus, clear soups and broths can keep you hydrated, especially when you aren't feeling well. 
Would you like to learn three healthy soup recipes you can prepare without any fancy ingredients? If so, keep reading! 
1. Chicken Soup
Even though canned chicken soup may taste delicious, it has a lot of sodium and only a few veggies. So if you want to enjoy a healthy soup diet, homemade chicken soup is a great alternative!
Before you begin cooking, you'll need:
Olive oil
Carrots
Celery
Onion
Garlic
Chicken stock
Leftover chicken
Bay leaf
Salt and pepper
Optional: egg noodles or rice
After heating the oil in a pot, you should add the veggies and saute them for a few minutes. Then add the chicken stock and bay leaf, let it reach a boil, and cook for 15 minutes. 
Put the cooked chicken into the soup (and noodles or rice if you plan to use them). Finally, season the soup to taste and discard the bay leaf before serving. 
2. Leek and Potato Soup
This recipe is perfect if you're looking for a vegetable soup that will leave you feeling full. It only takes a few ingredients, making it easy to prepare. Here's what you'll need: 
1 Potato 
5 Carrots
2 Leeks
2 Tbsp of olive oil
Spices- cumin, pepper, salt
Water or vegetable broth
First, heat the olive oil in a stockpot and add the cut-up veggies. Then, add the spices and let everything cook for about 20 minutes, stirring often. After, add enough water or broth to cover the vegetables and bring to a boil. 
Finally, use an immersion blender to make the soup into a cream. Once cooled, serve with parsley as a garnish!
3. Gazpacho
Soup isn't just for chilly evenings- you can enjoy this cold Spanish soup on the hottest summer day! 
Gazpacho was traditionally eaten during the tomato harvest, using ripe veggies from the garden and thickened with pieces of stale bread. People still eat it this way today, although you can find various modernized recipes online. 
For a traditional gazpacho, you'll need: 
Olive oil
Vinegar
Tomatoes
Garlic
Stale baguette bread 
Green pepper
Cucumber
Salt
Wash, peel, and cut all the veggies, placing them in a large bowl. Then add in small pieces of bread and a bit of water. Let this mixture sit for ten minutes. 
Next, add the oil, vinegar, and salt to the mixture before blending. Finally, let it sit in the refrigerator a few hours before serving it. 
Of course, if you enjoyed this recipe, you'll want to try other healthy soups that can help you lose weight on the 14 day rapid soup diet! 
Enjoy a Healthy Soup Today!
The healthy soup recipes in this post have minimal ingredients and are easy to prepare, even if you are a beginner. So, choose your favorite soup recipe and get cooking! Not only will you enjoy the new flavors, but incorporating healthy soup into your diet may also help you shed some pounds!
Would you like to learn more recipes that can help you lose weight? If so, browse more of our weight loss and health content!
Anything to Add? Leave a Comment!