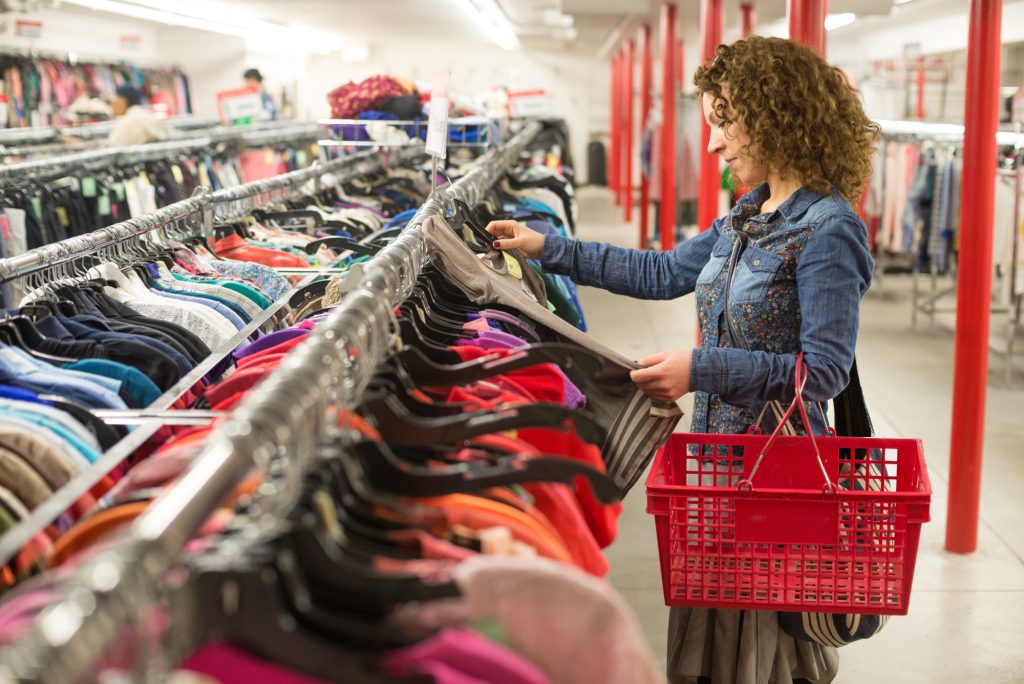 When you hear the word thrift store, do you picture spending countless hours wandering endless aisles of random junk and the funky smell of hundreds of people's unwashed shoes? 
Saving money doesn't have to be a drag. Once you know how to thrift, you can snag the best deals without sacrificing your time or sanity. These thrifting tricks will help you dress yourself and your home like royalty–without breaking the bank.
How to Thrift for Clothes
Shopping for clothes at a thrift store is one of the easiest ways to save money. Most major cities have at least a few second-hand clothing shops. 
While you want to keep an open mind, one of the best ways to find great deals is to go into the store with an idea of what you're looking for. That will keep you from filling your bags with impulse buys.
If you know what you want ahead of time, you can also plan more strategically. For example, if you want to score vintage sweaters for a song, then shopping at the beginning of summer is your best chance for sales on winterwear. 
Remember to check the garments for damage or signs of wear before you purchase them. If it's a high-quality fabric that will last a long time, it may be worth investing time or money in repairs or alterations. However, if it's falling apart, it isn't worth trying to resurrect it. 
How to Thrift for Home Goods
Finding budget home decor is almost as easy as finding high-quality thrifted clothes. Try shopping at thrift stores or antique shops in neighborhoods with a style that you admire. 
Most second-hand stores source their inventory from nearby to cut down on costs. Stores near fashionable neighborhoods are more likely to have a variety of more valuable pieces in good condition for a great price.
Don't be put off by items that are a little dirty or out of style, either. If you can clean it up or upcycle it, you could have a trendy piece of furniture or decor for a fraction of what you'd pay for a similar new item. 
How to Thrift for Large Items
Budget shopping for larger items, like home appliances or home gym equipment, might seem impossible. However, you can find great deals on these items with just a little bit of planning.
When you can't find them at a second-hand store, check local swap meets or online groups. If someone you know is replacing an appliance, ask if you can take the old one off their hands.
Your local appliance repair shop is likely to have the parts and expertise to get the appliance into working order. The cost of repairs will be significantly less than purchasing a brand new appliance. 
Get Out There and Save
The cardinal rule of how to thrift is to put in a little work. With some creativity and planning, you can curate the wardrobe and home decor of your dreams even if you don't have the salary of your dreams. 
For more advice on how to save money without sacrificing style, check out the rest of our budget-friendly blog posts!
Anything to Add? Leave a Comment!