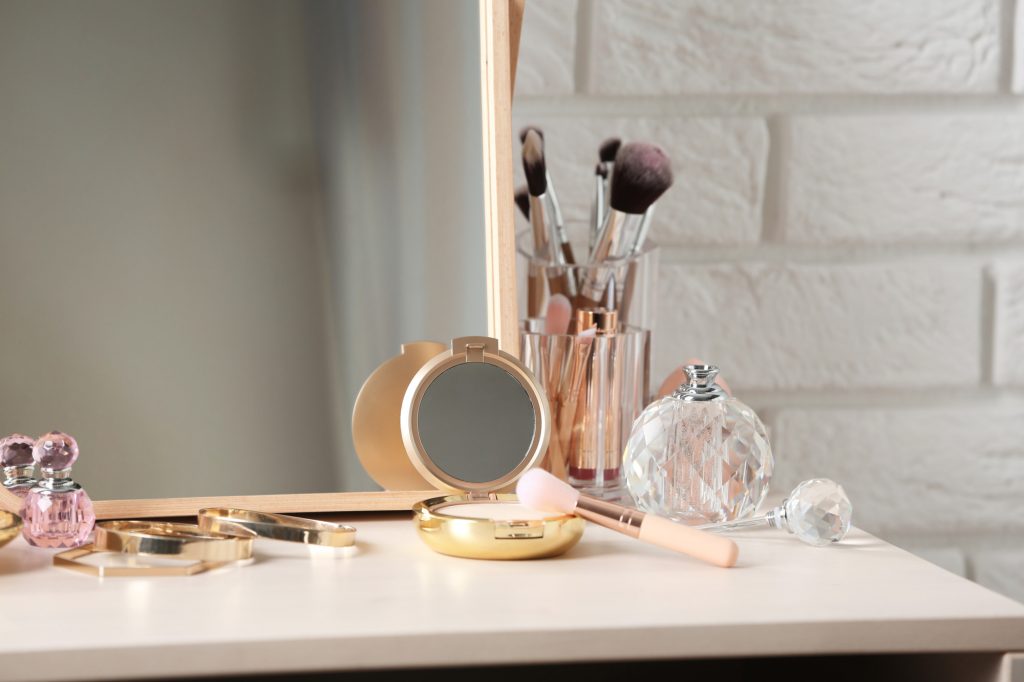 Have you ever thought about the space you get ready in?
Your vanity is often the place you start and end the day. It's where you sort your hair before work, where you get ready for a night out with your friends, and where you take off your makeup when you're ready for bed; it's one of the most personal areas of a home!
So, making sure it's a comfortable, organized space is essential. But, where do you start?
Take a look at these makeup vanity ideas to get inspiration for your own.
Make Sure It's Well-Lit
When you're getting ready, you need to be able to see what you're doing – it's a bit of a must! Natural light can work well, but only if it's not cloudy and not the evening, so it's a bit unreliable. That's why you should always invest in good artificial lighting.
Some people enjoy light-up mirrors while others prefer softer lamps. It doesn't matter which you prefer, as long as it's bright enough to see your makeup with! 
Invest In Organizers
When it comes to small makeup vanity ideas, you need organizers to stop your area from looking cluttered. You can get organizers for just about anything these days, from your eyeshadow palettes to your brushes! If you have a large makeup collection, it's best to get organizers for specific makeup products, whereas if you stick to a simpler routine a multi-purpose organizer should do the trick. 
For a minimal space, stick to plain, see-through organizers. If you'd like to add more character to your vanity, take a look at themed organizers here. 
Use a Panelled Mirror
While a large mirror on your wall definitely has its own appeal, a panelled mirror is a must for any makeup lover. These are mirrors that have multiple panels that you can move. They're usually made up of three panels; one directly in front of you and two on the sides, letting you see your face from different angles as you get ready. 
From ensuring your highlight is perfectly placed to not leaving a strand of hair unstyled, a panelled mirror will transform your makeup routine!
Add Hidden Storage
If you're on the hunt for DIY makeup vanity ideas, you'll love hidden storage! By adding secret storage you can declutter your vanity without making your space look full of drawers and cupboards. One great hidden storage idea is to create a mirror that opens up like a cupboard to reveal a compartment for all of your makeup. 
Here's how to make yours in the simplest way possible:
Use wood glue to attach four panels of wood together, creating the outline of a square
Cut a piece of wood to size to fit on the front of the square (not so it slips through, but instead so it sits on the square)
Add a hinge on one side of the square and attach it to the piece of wood to create a cupboard
Glue a mirror onto the front piece of wood 
Add two magnets on the side opposite the hinge so that the cupboard closes
You can add more pieces of wood within the square outline to create shelves, depending on how much makeup you have. It's super simple but very effective!
Use Paint or Wallpaper to Create a Nook
If you're looking for makeup vanity room ideas, why not create a nook for your vanity? Splitting a room into specific areas is a great way to make it neater and more organized, and your beauty space will look more inviting than ever!
To make your nook is easy. Simply use wallpaper paint in a contrasting color to the rest of your space to highlight the area. Make sure the edges are straight and the paint reaches just beyond the length of your vanity. You can then place your vanity in front of this section of wall and you've created a super stylish nook that you'll love to get ready in. 
Keep Things Simple
When it comes to makeup vanity decor ideas, the most effective looks are always the simplest. Your vanity is a purposeful space and too much clutter will make it difficult to get ready! So, keep decor to a minimum.  
Some simple makeup vanity top ideas that can add life to your space without taking over it include:
A small green plant i.e. a succulent
A selection of your favorite perfumes
Fresh flowers in a vase
A couple of small coffee table books
A pot for your makeup brushes
Opt For a Natural Look
The classic look for a vanity is a white painted desk or table, a big mirror, and lots of makeup organizers. While there's no denying that's a gorgeous look, it isn't the only option! Play around with different themes to create a more unique space that reflects you, your home, and your lifestyle.
For example, one look that's becoming more popular right now is a natural theme. To achieve it, purchase a round mirror with wood panelling, a wooden table in a matte paint finish or without paint at all, and add a plant or flowers. Try to opt for nature-themed beauty items, too, such as makeup brushes with bamboo handles and floral fragrance bottles to finish the look.
Start Bringing These Makeup Vanity Ideas to Life
Use these makeup vanity ideas as inspiration for your space. Remember, you don't have to stick to any one idea or theme, and can mix and match as much as you want! It is your space after all, and there are no rules. 
If you enjoyed this article, feel free to check out more on our website! We have plenty more tips on how to improve your home on a budget and live a thrifty life.
Anything to Add? Leave a Comment!