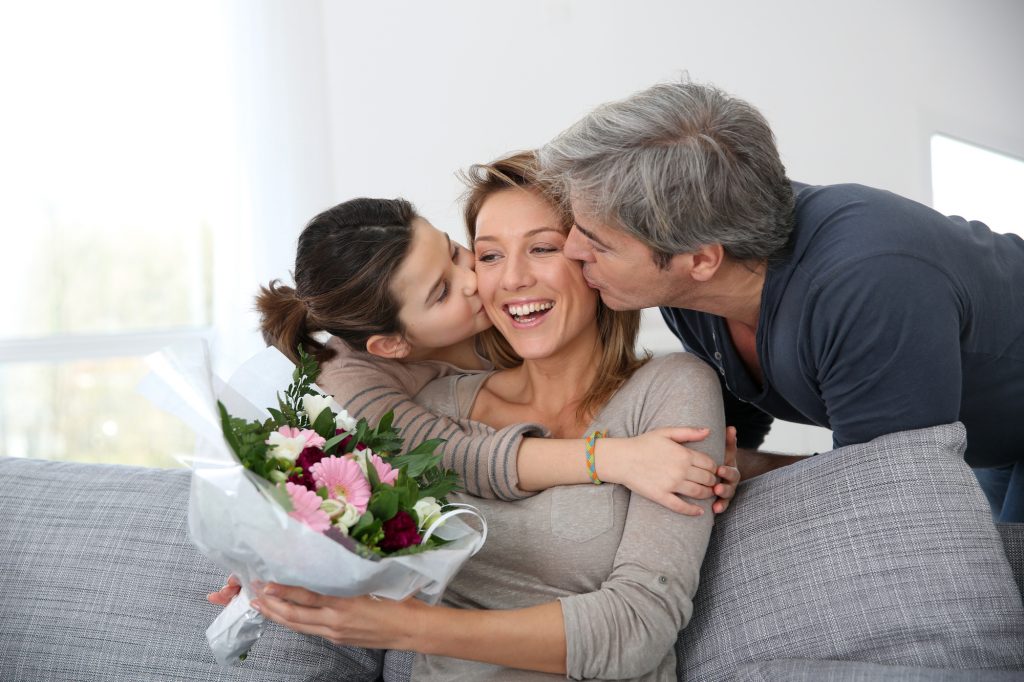 Your wife's big day is almost here. No, it's not her birthday, but you should spoil her like it is. May 9th is Mother's Day!
Your wife cooks, keeps the house in order, makes sure your kids are fed and taken to school, and does the grocery shopping, all while working a full-time job. Get her something special. Something that says, "thank you for all the work you do!"
Scratching your head because you're not sure what your wife likes or needs? Is she hard to shop for? Here are a few Mother's Day gifts for your wife that she's sure to appreciate.
1. Get Her Something Cheesy 
Some of the best Mother's Day gifts are the ones that leave her grinning like an idiot. Sure, she might roast you if you go too hammy, but deep down, you know she appreciates the sentiment. 
If you want to get her jewelry and leave a mushy note, there's the fortune cookie locket. When you order it, you can either pick a message or write a custom one. The message is rolled up and placed inside the locket.
If you're strapped for cash there's always the classic create a book of "coupons" idea. You'll make little coupons that she can turn in. For example, "cash this in for 1 breakfast in bed".
You can either create them on a computer and print them out or cut a piece of paper into squares and write everything in.   
2. Comfy Pair of Slippers
Between going to work and coming home to take care of the kids and do stuff around the house, your wife's poor feet are dying. Give her aching toes a break with a comfy pair of slippers. 
It won't be able to work the same magic as a foot soaker (another great gift idea to note), but it will make her feel like she's walking on a cloud while she's at the house. It also gives her something to slip her feet into in the morning, so she doesn't have to get jarred awake by stepping on a cold floor.  
3. The Fancy Chocolate Boxes 
Everyone can get their spouse a box of chocolates. What makes it special is the quality. Skip out on the store-bought stuff and get a little fancier.
We're talking about a subscription box. 
Vosges 
If you get chocolate from Vosges, you'll get to choose from two options for your wife. The first one includes a combination of bonbons and bars. You get to decide what goes into the box, so it's custom. 
If your wife enjoys the gift and you want to keep it coming, all you have to do is click the "subscribe" and "auto-ship boxes" when you're checking out. 
The second option is one of their two chocolate clubs. These are a little more expensive, but you can choose to only make it an every 12-month thing if you want. This way, the payments are more spaced out, at least. 
Rakka 
Every Rakka box comes with two or three unique organic chocolate bars. It depends on which subscription box you choose to go with. 
Each bar is pure, ethically sourced, and affordable. The boxes range between 20-25 dollars. You can get a shipment sent to your wife every month or every two months. 
Kekao
If your wife is a real chocolate connoisseur, this chocolate subscription box is for her. The company grabs awesome chocolate bars from other companies to ship to your doorstep each month. 
It's a fun surprise for your wife because whatever she gets will be completely random. There are four to five bars in every 40-dollar box. 
4. Bathtub Tray 
It's stereotypical, but there's nothing like sinking into a hot tub of water at the end of the day with a glass of wine in your hand. Well, it's nice until you accidentally dump your glass into the water. 
Help her avoid any unfortunate accidents by getting her a bathtub tray. It will allow her to enjoy her bath the way she wants it whether it's drinking a glass of her favorite pinot noir or reading a book by candlelight. 
5. Clean the House 
Great gifts for Mother's Days aren't always about what you get her. It's about what you do. She stays busy all year-round taking care of everyone. 
Give her one day where she doesn't have to worry about doing anything. Get up early the morning of Mother's Day and clean the entire house for her. 
Follow this up by cooking a nice breakfast or dinner, and we promise she will be happy as can be. 
6. Flowers 
Flowers are a classic Mother's Day gift. We will say that you shouldn't get her a bouquet from the grocery store. They aren't exactly kept up well, so they die fast. 
Trust a local florist for your Mother's Day flowers. Not only will they have a wider selection of beautiful arrangements, but they'll deliver them right to the door. 
7. A New Bag 
Have you seen the pockets on women's pants? You can't fit anything in them. That's why most women won't say no to a new purse that they can put their things in. 
For safety reasons, consider getting her a small one with an adjustable strap. If she can keep the purse close by her side, it will detour any crafty burglars. Believe it or not, they don't want to get caught. 
Choose the Best Mother's Day Gifts for Your Wife 
Are you wracking your mind trying to pick out Mother's Day Gifts for your wife? It's not something that you should overthink. At the end of the day, it's the act of showing your appreciation for her that matters. 
Consider one of the options on this list, or choose a combination of them to show the woman you love how much she means to you. If you're shopping this Mother's Day on a budget, visit the Frugal Living section of our blog for more ideas that won't break your bank. 
Anything to Add? Leave a Comment!