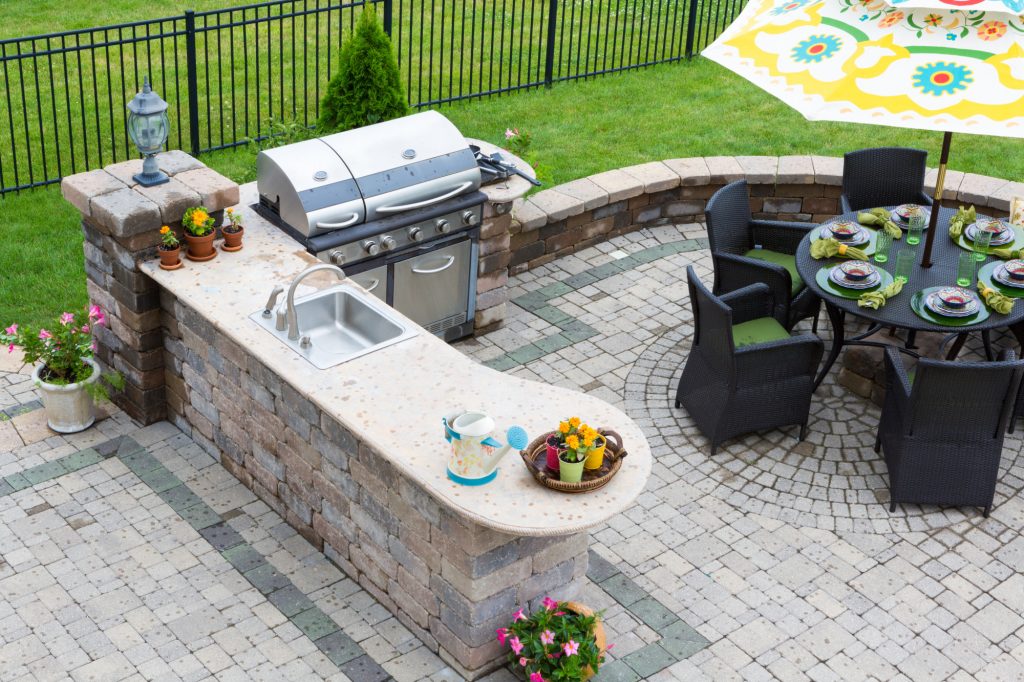 Summer days call for outdoor living while lapping up the fresh air and sunshine and there's no better way to enjoy it than in an outdoor kitchen.
Studies tell us that some homeowners spend as much as $30,000 on extravagant outdoor kitchen areas. If that figure makes you think you can't afford to build your own outdoor kitchen, think again. 
The above applies to only 22% of those who install an outdoor entertainment area. You determine your own budget when you construct an outdoor kitchen. 
Besides, here's why building an outdoor kitchen will pay for itself over and over again.  
1. Increases Your Home's Saleability
Improved appeal to home buyers is one of the best-known reasons to build an outdoor kitchen.
An outdoor entertainment area makes your home stand out among equivalent homes in your area. When prospective buyers arrive to view your home, an outdoor kitchen is a deal-maker. 
It's bound to stand out more in their minds than any of your home's more unattractive features. 
That's why homes with outdoor kitchens attract more offers and sell faster. 
2. Building an Outdoor Kitchen Is Budget-Friendly
One of the best benefits of an outdoor kitchen is that you can start small and make it more awesome as you go along. 
A basic outdoor kitchen consists of a concrete countertop and a grill. Add some stylish outdoor furniture or even a few lawn chairs, and that's all you need to get the party started.
As time goes on, you can add extra features like a sink, fridge, permanent seating, an awning, and a multitude of cooking options. 
3. A Variety of Outdoor Cooking Options
There's no end to the meals you can cook up in your outdoor kitchen thanks to the various add-ons available nowadays.
Some of the more popular ones are:
Pizza ovens
Fire pits
Outdoor fireplaces
Bars
Storage solutions
Fire tables
Chimeneas
Smokers
Gas cooktops
Charcoal grills  
A pellet grill is a modern-day alternative to gas and charcoal grills, that imparts delicious smoky flavors into your food, read more now.
4. Adds Entertainment Value
When you have an outdoor entertainment area, it's easy to round up your friends for a casual barbecue, cocktails, and poolside fun. 
There's no worry about keeping an eye on your children either. They can play in the garden within easy view, or entertain their peers with their own toys and games. 
If they do pick up a scrape or two, you don't need to rush home or to the store for a band-aid, since you're already there.  
When you have an outdoor kitchen, you can relax with your friends knowing your little ones are safe at home. Other parents in your social circle will agree, and you're bound to have a steady stream of friends wanting to join you for summer socials. 
There's always a place at the table in your own home, so there's no need for restaurant reservations either. You also won't have to spend hours finding a restaurant that serves meals the whole family can enjoy. 
5. Saves You Money
Who needs to eat out when you can cook up your own delicious meals on your doorstep? 
It's way more entertaining cooking up your own delicious eats and experimenting with new dishes than it is sitting in a crowded restaurant waiting for service.
You can feed and entertain all your friends at a fraction of the cost too.
In this way, an outdoor kitchen saves you a small fortune on eating out or hiring a venue for a special occasion get-together. 
Do you have special dietary needs? You can cater to your own preferences without having to pay a premium for trendy vegan or keto meals. 
When you're cooking up a storm in the kitchen during the summer, your air-conditioning has to work extra hard to keep your home cool. Eating outdoors takes the load off, helping to decrease your utility bills. 
6. Convenient Cooking
Outdoor cooking means less mess in your kitchen and very few if any, pots and pans to scrub after the fact. Spills are easily remedied with a quick hose down instead of hours of scrubbing.
If you install an outdoor fridge and ice machine, you'll soon learn to love the fact that you can reach for a cold drink right where you are, instead of traipsing inside to refill.
When you're entertaining guests from a conventional kitchen, you may be cut off from your friends, not so with an outdoor kitchen. You won't need to keep excusing yourself to check on the progress of dinner either. 
Your friends help with the preparation of meals without fear of cramping your style. When it comes to outdoor kitchens, the more the merrier. 
You'll have no problem with strong cooking odors permeating your house and lingering for days either. 
Unlike the kitchen that comes with your house, when you build an outdoor kitchen, you can choose a layout that works for you, so everything's within easy reach. 
Grilled food is also a lot healthier than takeout options or fried food.  
7. Improves the Value of Your Home
Real estate experts agree that outdoor kitchens bring an ROI of up to 200% if you decide to sell your home.
So even if you don't get as much use out of it as you should, you always win when you build an outdoor kitchen.
Outdoor kitchens also increase the living area of your house, especially if it's undercover and close to your house. More square footage automatically translates to a higher price when you sell your home. 
More Useful Upgrades
There's no doubt that an outdoor entertainment area adds value to your life and home. 
Whether you're building an outdoor kitchen or wondering how else you can upgrade your home and garden, we have the answers.
Keep reading our blog for more of the latest real estate-related tips and tricks. 
Anything to Add? Leave a Comment!