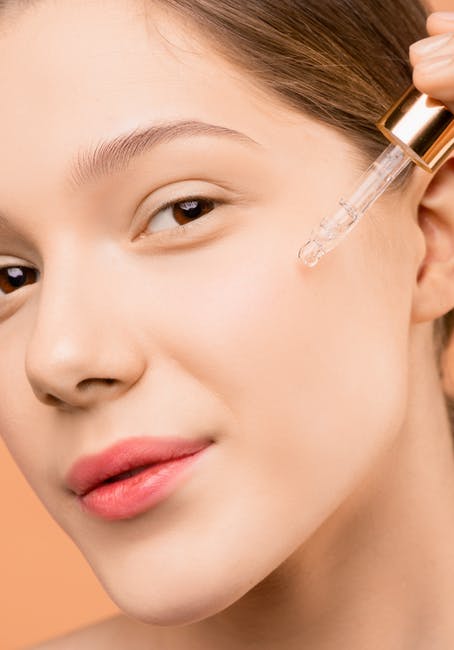 If you aren't using a face serum before moisturizing, you're missing out on the opportunity to seriously transform your skin. 
Yet, you may be thinking: serums are expensive! You can't possibly shell out hundreds of dollars every month when you have other beauty products to purchase, too.
Lucky for you, there are drugstore alternatives. That's right: the best affordable face serum doesn't have to cost you a fortune. And today, we're talking about ten affordable serums you can pick up at a drugstore near you.
Don't believe us? Check out this article and see the truth for yourself!
The Best Affordable Face Serum Products (Plus How to Use Them)
You want good skincare but don't want to break the bank, and we want to help you find it! Here, we're talking about our ten favorite serums broken down by common skin issues. As a bonus, we'll also tell you exactly how to incorporate them in your daily beauty routine.
Sound good? Let's dive in!
For Acne-Prone Skin
AcneFree Adapalene Gel – $11.99 
Adapalene is an ingredient that fights inflammatory and non-inflammatory acne. This ingredient addresses the inflammation responsible for cystic acne while also boosting cell turnover to prevent pore blockage. 
Use a medicated cleanser (like one with salicylic acid) to start your acne-fighting beauty routine. Follow up with this serum and a water-based or oil-free moisturizer for a clear complexion every time.
For Dark Marks
Differin Dark Spot Correcting Serum – $18.97
This serum contains 2% hydroquinone, which is a safe and powerful skin lightener. Hydroquinone decreases melanin production in the scan. That makes it uber-effective against acne scars, dark marks, and even melasma.
To further promote dark mark fading, grab a cleanser with glycolic acid, which is known to help reduce acne scars. Apply your Differin serum to cleanse, dry skin. Your last step is to use a moisturizer with high SPF to prevent worsening dark spots or getting new ones. 
For Red and Irritated Skin
Olay Cooling Pressed Serum Stick – $19.99
Do you have stressed-out skin? Calm it down with this niacinamide and cactus water-containing serum from the masters of youthful-looking skin. 
To use this product, cleanse and dry your skin. Then, glide the stick over your face for a completely hands-free experience. Finish off your skincare routine with a calming moisturizer containing aloe, lavender, or eucalyptus. 
For the Naturopaths
Burt's Bees Intensive Renewal Firming Serum – $19.99
Containing clean ingredients, this serum provides the power of a plant-based retinoid to firm and plump as good as the expensive stuff.
When you use natural products, you do run the risk of clogging pores. Steer clear of cleansers with clay and other drying materials, too, to avoid stripping moisture from the skin. Round off your natural routine with something as simple as aloe vera gel to lock-in moisture all day the natural way.
For Wrinkles
RoC Retinol Correxion Deep Serum – $16.00
Retinol can be alarmingly expensive, so it's nice to see a drugstore alternative. This ingredient doesn't just reduce wrinkles, it also softens and plumps the skin, making it perfect for all ages.
A wrinkle's worst enemy is moisture. To keep skin looking youthful and fine line-free, pick up a cleanser with hyaluronic acid and follow up with this serum. Add on a layer of a thick moisturizer to ensure the retinol doesn't dry out your skin. 
For Dry Skin
Neutrogena Hydro Boost Hydrating Serum – $19.46
Hyaluronic acid is a double-duty dream for dry skin, moisturizing and plumping all at once. That's why this serum is one of our favorites. This serum won't clog pores, is lightweight, and non-sticky— everything we've come to expect from dermatologist-recommended Neutrogena. 
Start your beauty routine with an oil-based cleanser for ultimate hydration. Dry your face before putting a few drops of this serum into thirsty skin. Finish off with the best moisturizer for dry skin to lock-in all that hydrating goodness.
For a Glow
Aveeno Positively Radiant MaxGlow Infusion Drops – $17.90
If you deal with dull skin, the soy and kiwi extracts in this serum can help you out. It's just as hydrating as it is brightening, perfect for mornings when you need a little extra boost.
An exfoliating cleanser is your best friend when you need a glow-up. Follow with this radiant serum before applying a super-hydrating moisturizer like the one we mentioned above for dry skin. Add a spritz of rose water or aloe before applying makeup for that glass skin look.
For Sagging Skin
Physician's Formula 24-Karat Gold Collagen Serum – $16.00 
Collagen is the secret to firm youthful-feeling skin, but collagen-containing serums are usually priced through the roof. Not this one. With collagen, niacinamide for reduced redness, and peptides for plumpness, this is one of the best affordable face serums around.
When you have sagging skin, the products you use are less important than how you use them. Always apply products with an upward motion. That way, you aren't tugging your skin down and contributing to sagging. 
For Textured Skin
Innisfree Green Barley Daily Refining Serum – $26.00
Even if you don't deal with acne or wrinkles, serums like this one can help fix textured skin. The alpha-hydroxy acids found in green barley vinegar smooth the skin and glycerin promotes moisture retainment. This serum exfoliates, too, making it an even better value. 
Skip the exfoliating step when you incorporate this serum into your daily routine. Instead, choose a softening cleanser and save the scrubbing for your serum. Then, use a soothing moisturizer to ensure a perfect base for applying makeup.
For Sensitive Skin
Acure Seriously Soothing Blue Tansy Serum Stick – $19.00
According to dermatologists, the blue tansy oil in this serum reduces inflammation and is anti-bacterial. Plus, Acure's serums are 100% fragrance-free, plant-based, and free of any nasty parabens or sulfates that may irritate your complexion. 
For a soothing beauty regimen every time, try to stick with a single line of products. For example, Acure's Seriously Soothing line includes a cleanser, exfoliator, and mask. Sub-in your favorite non-comedogenic moisturizer to keep your skin calm and happy. 
The Final Word on Serums
If you want to up your skincare game this year, you need the best affordable face serum on the market. So next time you're shopping for beauty products, don't forget to bring this list along!
Loved this article and want more like it? Then you better keep checking back for more!
Anything to Add? Leave a Comment!