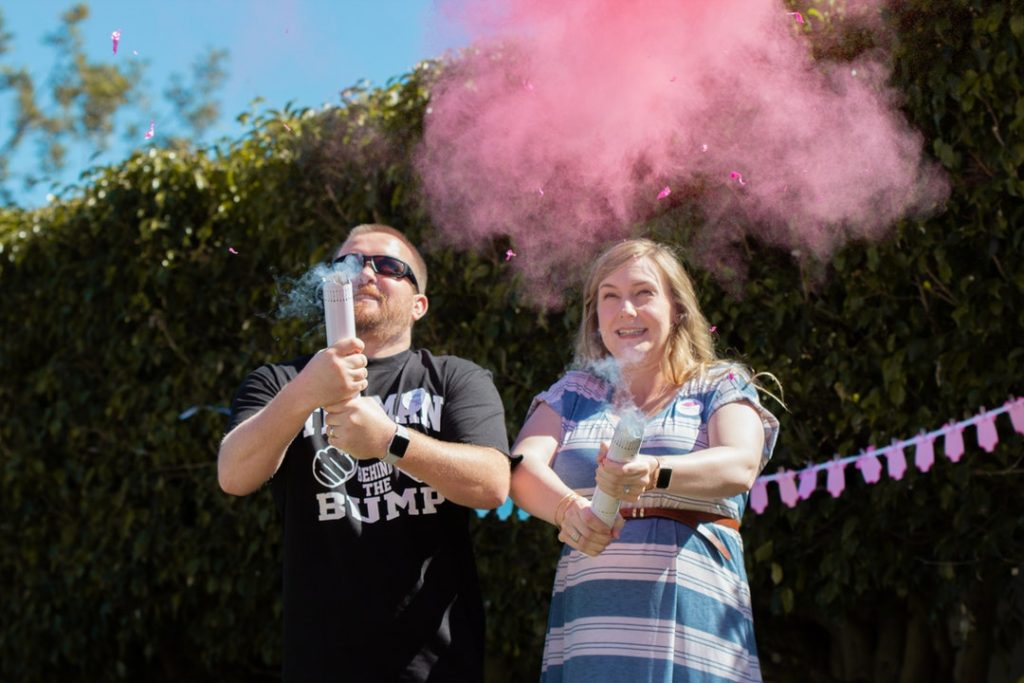 There are many exciting moments that happen in the course of pregnancy- revealing to your partner that you're pregnant, feeling the baby kick for the first time, and seeing the results of the first ultrasound. 
But, out of all the exciting moments that come with pregnancy, undoubtedly, one of the most exciting moments is finding out the sex of your baby. 
Of course, you are going to love your baby whether they are a boy or a girl. But still, finding out the sex means you can start picking out clothes, making a list of potential baby names, and decorating their future bedroom. And, best of all, finding out the sex means you get to throw a gender reveal party!
Gender reveal parties are the perfect opportunity to share with your loved one the news about the sex of your baby. And, they're a great way to have some fun and take your mind off of the aches and pains that come with pregnancy. 
But, how do you throw an awesome gender reveal party that your guests will love and that will have the baby kicking in excitement?
Check out this guide to learn how to throw a gender reveal party that is both fun and affordable. 
Throw It Outside of Mealtime Hours 
Typically, they say that when throwing a party, you are supposed to plan for a half a pound of meat for every guest. 
While that may not seem too ridiculous, that can quickly add up to months and months worth of diapers in pregnancy dollars. 
To save money on the food, we suggest throwing your gender reveal party outside of regular dining hour times. While times will vary according to your schedule, we usually find that the sweet spot is somewhere between 1-6pm. 
And, be sure to let your guests know that you'll just be serving finger food. That way, they'll know they should have a proper meal beforehand. 
Or, if you really want to save some money, you can turn the event into a potluck. Chances are, your friends and family will be more than happy to bring over some food to feed your pregnant belly!
Sips and Bits 
Whether you provide the food yourself or have your family and friends pitch in, you are still going to want some gender-revealed themed snacks and drinks- aka, refreshments that are blue and pink. 
If you're on a budget, don't worry about splurging on an elaborate seven-layer cake. There are plenty of treats that are affordable and simple that your party-goers will love. 
Here are a few quick refreshment ideas: 
Blue and Pink Cake Pops: Cake pops are all the rage right now, and for a good reason. They are super easy to make and they make the perfect bite-sized dessert. 
Blue and Pink Puppy Chow: Throw some powdered sugar, Chex cereal, butter, chocolate, and peanut butter together and you have the delicious, budget-friendly dessert that is puppy chow. And in some blue and pink food dye to make it party-themed!
Lemonade: Pink lemonade couldn't be easier to whip up. For a blue drink, consider Kool-Aid. 
Colored Candies: If baking sounds like too much work, why not just buy candies that are already blue or pink? For example, you can load up on pink starbursts, blue M&Ms, pink Laffy Taffys, or blue Airheads. Or, grab a pink and blue marker and color in the lighter parts of the wrapper!
Pink and blue cotton candy
Also, don't feel like every food item you serve needs to be pink or blue. Having two or three color-themed items is plenty. The rest can be normal finger food. 
If you're looking for more recipes, you can also check out this Gender Reveal Guide. 
The Decor 
Lively decor is what makes a gender reveal party truly festive. 
But, purchasing gender reveal party decor can quickly add up. That's why we suggest DIYing your decor. 
And don't worry, you don't need to be a skilled artist to whip up some professional looking decor items. 
Here are some simple and affordable DIY decor ideas:
Wrap blue and pink ribbons around white dollar store candles
Use card stock and ribbon to create a gender reveal banner
String blue and pink streamers all around your home
Lay out white plastic tablecloths and sprinkle blue and pink confetti all over them
Or, you can also totally skip these ideas and throw your party outside and let nature be your decor. 
The Reveal
The reveal is undoubtedly the most exciting moment of the gender reveal party. 
But, a great reveal isn't about the money you put into it- it's about creating an element of suspense for your guests. 
Here is a few affordable gender reveal ideas that are also huge crowd pleasers:
Pinata: Stuff a neutral-colored pinata with either pink or blue candy. If you want to make it really cutesy, stuff the pinata with pink or blue-colored party favors that the guests can then take home. 
Balloons in a Box: Put pink or blue balloons in a box and then decorate the box however you want. Have your guests count down to release the balloons. 
Paint War: As a future parent, you have a lifetime of messes coming your way. Why not start preparing for them now by having a paint war? Have your guests wear cheap, all white clothes, and then break out into a paint fight in the backyard for a good time.
Smoke Fountains: Colored smoke fountains may seem like they'd cost a lot of money, but you can easily find them for as little as $15
Silly String War: The same idea as a paint war, just a little less messy. 
As you can see, there are many simple reveal ideas out there that won't cost you a fortune!
Are You Ready to Throw an Unforgettable Gender Reveal Party? 
As you can see, throwing a fun gender reveal party doesn't have to cost a lot of money. 
If you have any questions about throwing an unforgettable gender reveal party, please let us know in the comments below. 
And, don't forget about the baby shower! Be sure to put these baby toys on your baby shower wish list. 
Anything to Add? Leave a Comment!