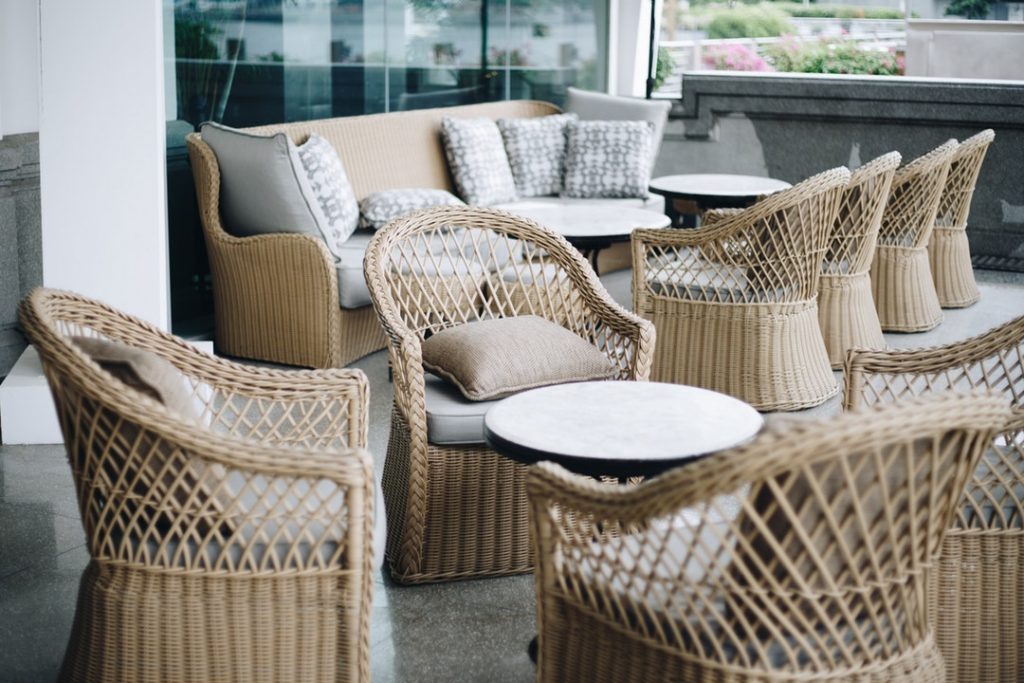 Is your patio or deck looking a little drab? Do you find yourself avoiding spending time outdoors because your backyard is so boring?
Some well-placed outdoor furniture can have a big impact on the appearance of your backyard and make it much more inviting.
Whether you want to spruce up your backyard for guests or for your own viewing pleasure, it's possible to invest in high-quality outdoor furniture without spending a lot of money. 
Read on for some great outdoor furniture ideas that will help you jazz up your porch and patio without breaking the bank. You'll also learn how to save money on your favorite items!
Affordable Outdoor Furniture Ideas
A lot of people are under the impression that outdoor furniture (or furniture in general) has to be expensive in order to look nice. This couldn't be further from the truth, though.
Here are some great outdoor furniture ideas to inspire your patio or deck makeover:
Purchase a portable firepit
Invest in a high-quality staple piece, such as a patio table and chairs or an outdoor sofa
Revive old items with paint, polish, or new cushions
Invest in multi-use pieces, such as a large bench that can double as a lounger
Jazz up neutral pieces with fun accent pillows or pops of color
Purchase weather-proof pieces that will last all year round
Look for pieces with wheels for easy rearranging
Look for furniture made of synthetic materials, especially synthetic wicker
Remember to consider the amount of maintenance a particular piece of furniture will require before you purchase.
If you're not the type to launder outdoor couch cushions or sand and stain wood on the regular, don't invest in these types of pieces.  
The Best Places to Shop for Outdoor Furniture
Okay, you've got some ideas on the best way to furnish your deck or patio. But, where do you shop for this furniture? How do you make sure you're getting the best deals possible?
Listed below are some of the best places to shop for affordable outdoor furniture:
Thrift Stores
Thrift stores are a great option for finding all kinds of treasures, including outdoor furniture. You'll be amazed at the perfectly good items that people just give away!
Head to your local thrift store or antique shop to see what they have to offer.
Don't forget to check out architectural salvage stores, either. Charities like Habitat for Humanity sell reusable and surplus materials and furniture at a discounted rate. They're a great option if you want to save money on high-quality items.
Yard Sales and Garage Sales
Scour the newspaper and online ads to find out where yard and garage sales are going down in your area.
Generally speaking, the purpose of these sales is to get rid of items, not necessarily to get a high price for every item. You can get high-quality items for very low prices just because people are moving or downsizing and don't want to take them with them.
At yard sales and garage sales, prices are always negotiable, too. Don't be afraid to haggle for what you want.
Online Seasonal Sales
Another great way to save money on outdoor furniture is to shop during the fall or winter when people aren't typically looking for outdoor items.
You can find great deals this way. 
Big Box stores like Target and online stores like https://www.patiosusa.com/brand/tommy-bahama-outdoor-living/ often sell items for much less during the offseason than they do during the summer of spring.
You have to do a little planning if you take this approach, but it's a great way to decrease your costs.
Online Classified Ads
Don't underestimate online classified ads, either. Craigslist, eBay, and Facebook Marketplace are all great options for folks who want to save money when shopping for furniture and other household items.
Like yard sales and garage sales, there's also lots of room for haggling when you're shopping for outdoor furniture on these sites. Most sellers are willing to knock down the price a bit if you make them a good offer.
Bonus Tips to Save More Money on Outdoor Furniture
You can get the backyard you've always dreamed of even if you're working with a shoestring budget.
Here are some bonus tips that will help you get the best deals possible on your outdoor furniture and make sure you pick out the best pieces possible:
Measure Before You Buy
When you purchase discount outdoor furniture, the sale is almost always final. Make sure you measure your patio or deck before you make a purchase to ensure the furniture will fit.
Focus on Quality
It might be tempting to buy the cheapest item in the store or on the website, but it's important to make sure the quality is there, too. Remember, it doesn't pay to buy a super cheap item if it breaks a few months later.
Compare Prices Online
One of the best ways to save money on furniture is to compare prices online before you shop. You'll get to save time this way, too, since you'll know where the best deals are.
Look for Coupons
There are lots of online coupon codes available for various furniture stores. You just have to be willing to search for them.
Consider Trading in Old Items
Some furniture stores will give you credit toward new items if you bring in your old furniture. If you're ready for an upgrade, consider this option. It cuts down on waste, too!
Don't Skip the Sit Test
Of course, your new outdoor furniture needs to be comfortable. Don't choose an item based solely on looks or brand name. Sit down and make sure it meets your specific comfort needs, too.
Start Shopping for Outdoor Furniture Today
As you can see, there are lots of ways you can get fun, high-quality outdoor furniture without spending an arm and a leg.
Keep these tips in mind to make all your outdoor furniture ideas and dreams a reality.
Do you want to learn more about how you can save money on outdoor furniture? What about furniture in general? Either way, we've got articles for you.
Check out the House and Home section of our website today for all kinds of helpful information to help you furnish your home while sticking to your budget.
Anything to Add? Leave a Comment!