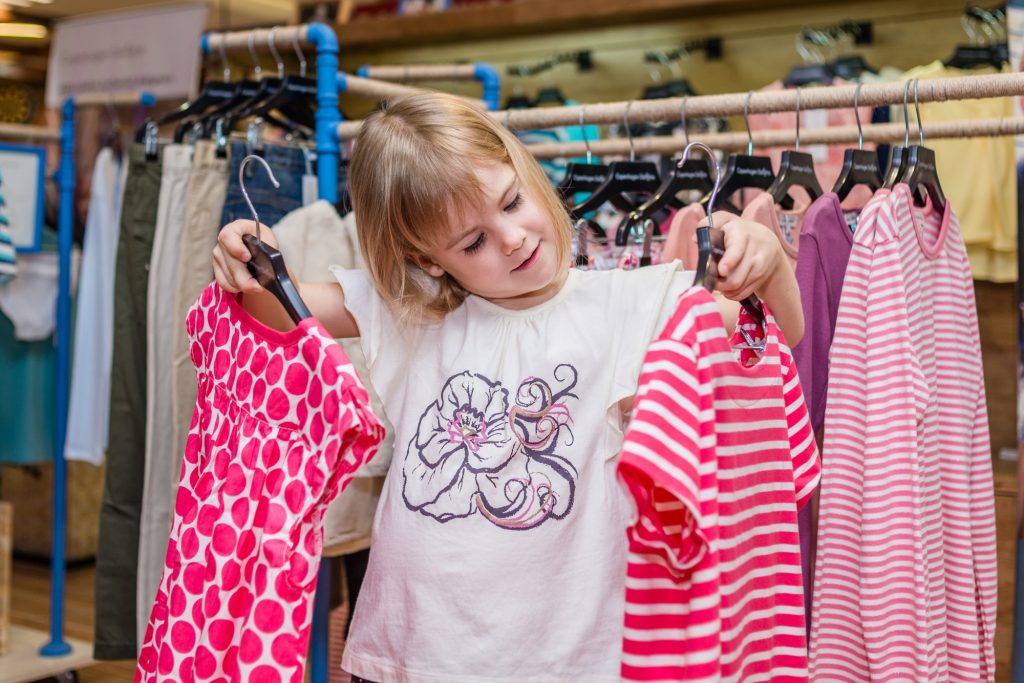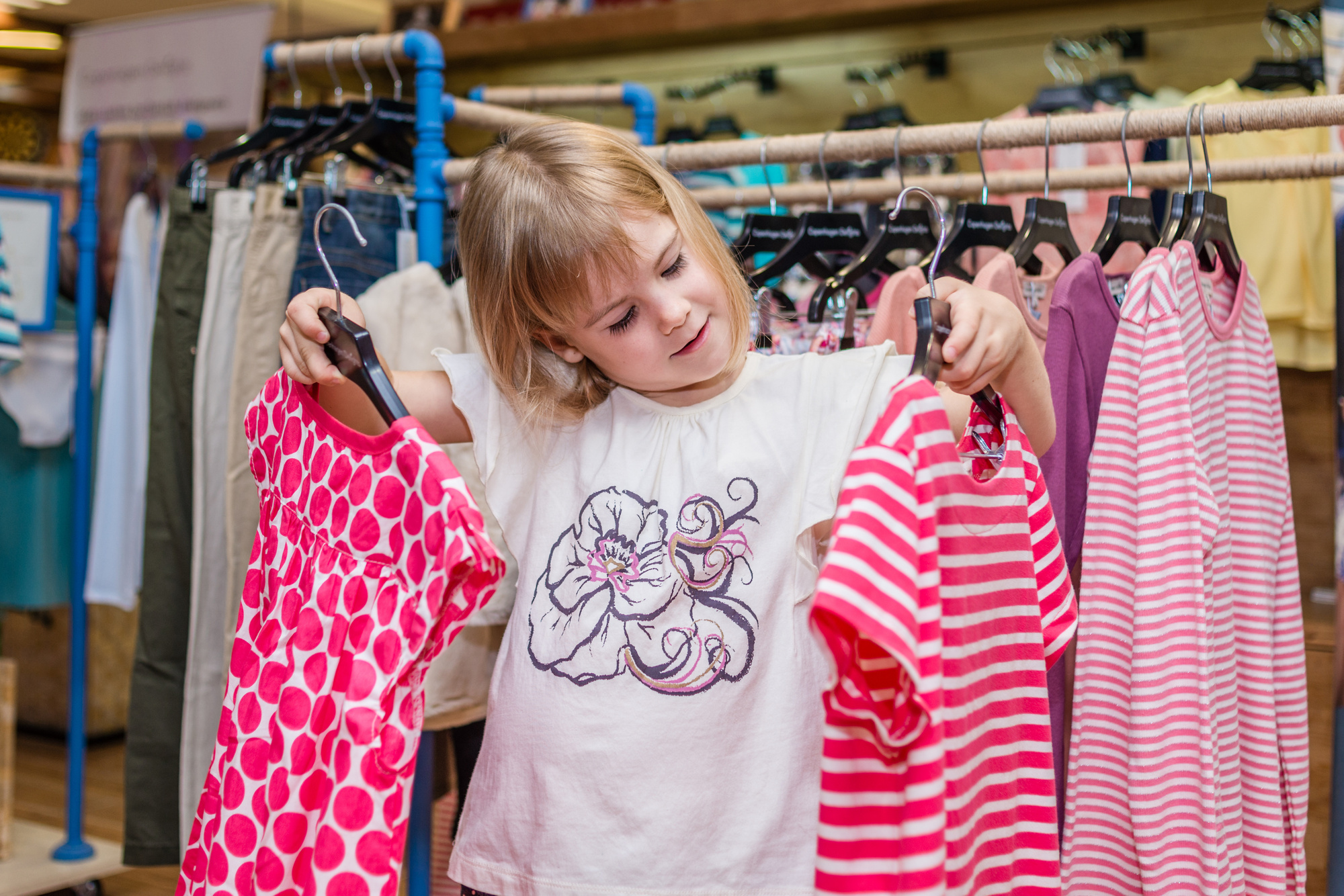 Moms spend more time and money buying clothes for their children than they do for themselves. The average back to school clothing expenditure per child per year is $131. That adds up!
Part of the problem is that there are so many cute clothes for girls. Gone are the oversized t-shirts and culottes of yesteryear. Girls go to school in moto jackets and tunic sweaters, chambray shirts and leather boots, and jeans in every cut and rinse available.
It's easy to go overboard.
There are better ways to shop for your kids than succumbing to every impulse buy. Here are seven tricks for filling your daughter's closet without going broke.
1. Borrow the Big Stuff
Some of the biggest ticket items are the pieces that only get worn once. A flower girl dress and shoes for a wedding, Christmas clothes, and snow pants. Borrowing these low-use items from another family saves you money and gives the clothes another life.
There are also places you can rent dress clothes, whether brick and mortar or online. Not only will you outfit your daughter more economically, but you also won't have to face a wasted investment every time you open the closet.
2. Swap It Out
Reusing other people's stuff is a great way to acquire affordable kids clothes. In the era of fast fashion, it also helps the planet by keeping clothes out of landfills.
Organize a swap among your friends or moms from sports and school. Spend a couple of weeks collecting items. Have moms drop clothes off at your house so you can sort them by size and style.
On swap day, it's a free-for-all, and everyone takes what they need.
Keep an eye out for swaps or clothing bazaars at churches. It's a similar concept on a much larger scale. They often have tons of gently used baby gear, too.
3. Buy Second Hand
Kid clothes can either get worn to pieces or not used much at all. Kids are picky and choose their favorites based on criteria parents don't even consider. Shirts might get overlooked for itchy tags, pants get rejected for being too stiff.
Meanwhile, your daughter wants to wear the pilled pony dress every. single. day.
But what's frustrating for one parent is gold for another. Those unused clothes end up at consignment shops like Once Upon A Child, where you scoop them up for a great deal. You'll find like-new shoes, girls plus size clothing, and every Halloween costume imaginable.
You might even find a fresh replacement for your daughter's favorite dress.
4. Shop Next Season
If you can think beyond the daily mom grind and prepare for the future, you'll save a lot of money buying clothes offseason. Stores have to clear out seasonal stock regularly, which means you'll save big.
Anticipate your daughter's growth and buy jackets as they go on sale in Spring. Buy up shorts once there's snow on the ground. Get in the habit of buying for next year at the end of every season.
Store your haul in clear plastic bins so you don't forget what you've got. Make sure to label them by size and age, and switching out your kids' closets is easier than ever.
5. Wait for Sales
Stop buying clothes at retail prices. Chances are there are similar cute children's clothes on sale or even on clearance. You can save up to 70% sometimes.
Target has a regular schedule of sales, especially on holiday branded items. A Valentine's sale could earn you a peplum top decorated with hearts, which can be worn long after February 14th. Sweaters with snowflakes might go on sale after Christmas but will stay in fashion all throughout winter.
Old Navy is always having store-wide sales. Stock up on essentials when they're half-price. Always check the clearance racks. Some items get moved to clearance because they're unworn online returns.
6. Get Less
If you buy less, you'll spend less. It's as easy as it sounds.
Instead of buying a pair of leggings in every pattern, get a handful of more basic styles that go with anything. Limit yourself to items that mix and match. If everything goes well together, it reduces the chance of garish, clashing kid-picked outfits.
When your daughter dresses herself, you won't feel the need to make that disclaimer on your Instagram posts.
Get the most out of what you spend money on. You'll get every penny out of a pair of shoes your daughter wears until they're worn out. Invest in three good pairs: a boot, a gym shoe, and a dress shoe.
Size up on items like pajamas and jackets. They'll last for years, and it doesn't matter if they're loose-fitting. Those bedtime bellies will stay covered longer, and you won't have a stack of coats to sift through at the beginning of winter.
Spend more on neutrals that can be passed between sons and daughters. There are plenty of options all of your children will be happy to wear.
7. Go Online
Your favorite store probably has an Internet presence. You can shop for sales online to access more sizes. Sometimes stores even run exclusive discounts online.
Have the items shipped to your local store to avoid shipping fees. Many websites offer free shipping with $50 purchase.
Amazon rolled out their Prime Wardrobe service with free returns or exchanges. The selection is vast, and prices are low. You'll have to pay attention to reviews and size charts to make sure you know what you're getting.
The best online deals happen midweek. You can save around 40% by finding Wednesday sales. Consider setting up an Ebates account for added savings or buying coupon codes.
Websites like ThredUP sell gently used clothes at significant discounts. A search on eBay for clothes NWT (new with tags) will get you a deal on brand name clothes.
There are also wardrobe curating sites for kids, similar to Stitch Fix. You'll get a monthly box of girls clothes put together by stylists. If you decide to keep the clothes, you'll save 30% off list price, or you can return the items at no cost.
Get Shopping for Cute Clothes for Girls
Now that you know the tricks, shop smart for cute clothes for girls. Borrow what you can, think ahead, and don't overbuy.
Affordable kids clothes are just the start. You can save money everywhere. Find more tips for saving money in our Frugal Living section.
Anything to Add? Leave a Comment!