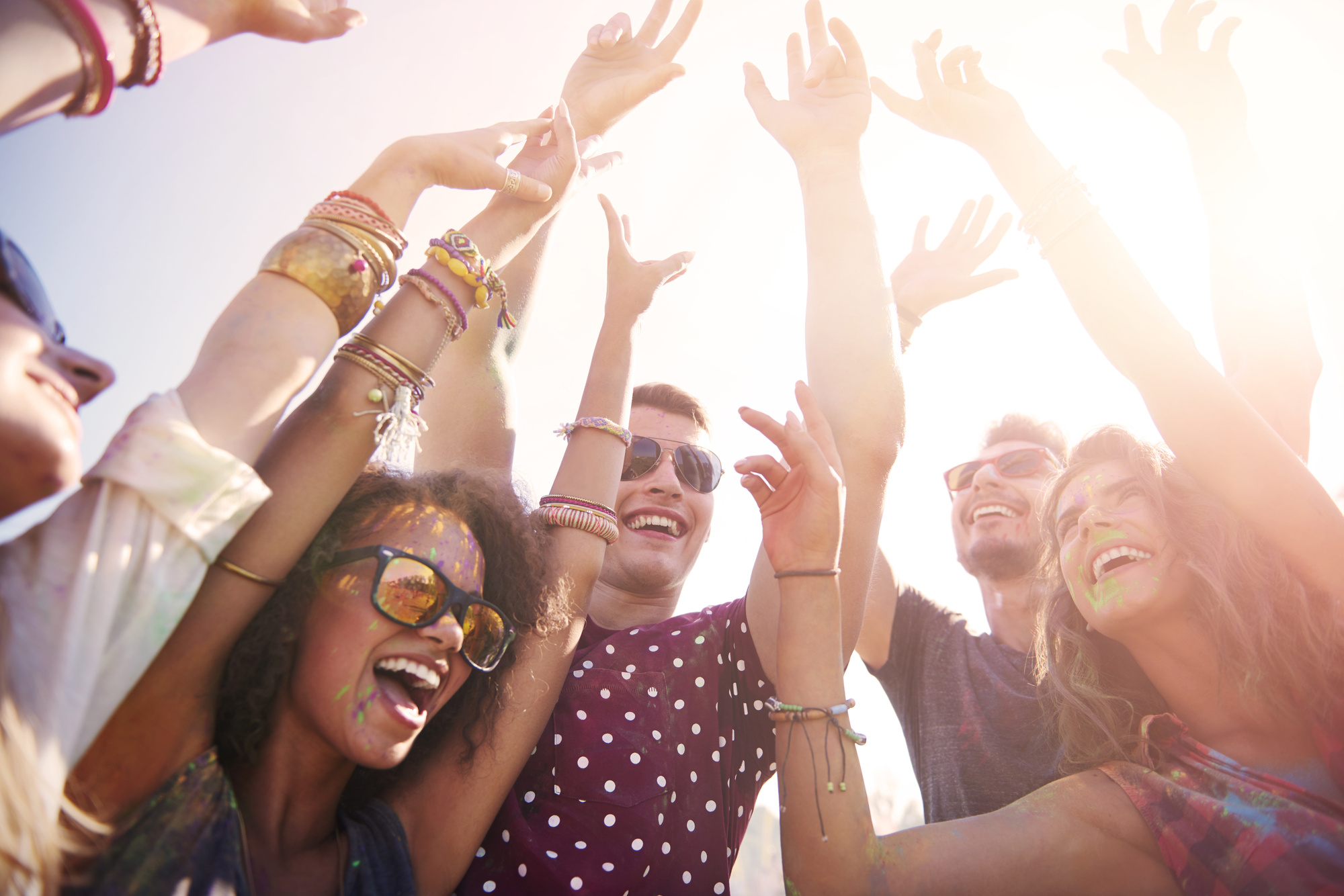 It's beginning to feel like summer already. School is almost out, and the world is getting antsy for some time off, lots of warm sunshine, and fun-filled days.
You've got from June 21-September 22 to take advantage of the weather, attend a few parties, and maybe throw your own (and of course, no one's complaining if you start early).
There's an endless amount of summer party ideas out there. Start with timeless holidays like the Fourth of July, and get silly with ones like National S'more's Day on August 10th.
What are you waiting for? Start planning now so you can throw an unforgettable bash in the next few weeks.
Here's some inspiration to get you started!
Summer Party Ideas You'll Love
Get reading, and then get partying with some of our ideas as your muses. All you need is some planning and creativity. Let's dive in!
1. Red, White, and Blue
You've probably heard of white parties where the guests attending have to wear all-white. If you're anything like us, that sounds dangerous. Imagine spilling yellow mustard from a hot dog all over your new white suit.
Why not throw a red, white, and blue party to celebrate Independence Day? Make sure that no guest attends without the color layout present on their clothing.
It's like St. Patrick's Day: we give you permission to pinch them otherwise!
2. National Bikini Day, Ladies?
If you're not wiped from all the Fourth of July fun had, the next day can be a blast for you and your girlfriends: July 5, or National Bikini Day.
We think this makes for a perfect outdoor party idea. Whether you're at your neighborhood pool or on the beach, you can supplement with lots of fun in the water.
Just think about it: pool slides, blow-ups, bubbles, water volleyball, and lots of photo opportunities.
3. Relax on Hammock Day
Ahh, we're relaxed just thinking about relaxing on July 22nd.
Have your friends and family set up at a great local park with lots of open air and a sprinkling of trees. Supply hammocks, have everyone bring any they own, and set up a casual spot for chilling.
Accompany the chillin' with some finger food, Frisbees, and a stack of magazines.
In 2018, it lands on a Sunday, the prime day for taking it easy. This time, accompanied by a quality hammock.
4. National S'more's Day
S'more's: the timeless treat enjoyed by adults and children alike since Loretta Scott Crew made them for her fellow Girl Scouts in 1927.
Throw this bash indoors or outdoors, but we definitely recommend outdoors. After all, the s'more's recipe began over a campfire. (Ghost stories, anyone?)
If you have the space or the place, consider throwing a bonfire party on this day and greet everyone with their own roasting stick. Gather around a warm fire with friends, family, and lots of sticky fingers.
5. Labor Day
Celebrate the Labor movement by laboring in only the most fun ways possible: setting up for a party.
This year's falls on Monday, September 3rd. It began as a street parade to show the strength of America's labor organizations to the public.
Keep it traditional and throw a parade-themed party. We're thinking balloons, lots of colors, costumes, and never-ending decorations. You could even take your party to the streets and attend something in your area.
6. Christmas in July
Are you one of those people who craves wintertime and the family fun that comes along with Christmas?
Then don't wait until the 25th to celebrate. Throw a "Christmas in July" party, complete with red and green, holly, mistletoe, fake snow, Santa, and anything else that is a tradition for you and your friends and family.
Depending on where you live, a party outside during the winter months is undoable due to freezing temps. This is the only way to land Christmas in our outdoor summer party ideas. It's like a half-birthday!
7. Backyard BBQ
Keep it classic with red-and-white checkered tablecloths, hot dogs, hamburgers, mac n' cheese, pork n' beans, and potato salad. Guests can drink lemonade, sodas, beer: whatever your heart desires.
This summer-themed party idea is all about the food. Whether you make it yourself or opt for a caterer, make sure it stands out. Lay out BBQ meats, and multiple sauces: Sweet, Cajun, Original, Carolina Gold.
Then pass out the paper plates and get to feasting! Everyone loves food; it's a fact.
8. Wet n' Wild
Host a pool party and make it all about refreshing fun: tons of fruit for snacking as well as chips and dips. Maybe pull out that grill again and whip up some chicken.
Whatever you do, don't forget the floaties. Kids and adults alike can sprawl out on the pool's surface, lounging on floats and enjoying the subtle pool waves.
Marco Polo and relay races get the fun started. Fireworks and sparklers keep it going when the sun starts to drop. Flick the pool light on and swim into the cool evening.
9. Doggie Playdate
Don't leave the pups at home.
Instead, organize a group playdate with well-behaved dogs. Get all the owners outside and swapping names, facts, and quirks about their precious four-legged children.
10. Beer Garden
Adults only!
Throw a 21-and-up beer garden-themed party, complete with locally-made craft beer and creative snacks to match.
Google any beer garden near you and you'll see what all of the craze is about. Bring the bar to you: buy beer from local breweries, hit up a good liquor store, and invite all your beer-loving friends.
Don't forget the pint glass koozies! Keep that beer as chilled out as you'll be!
Feeling Inspired?
There's no doubt about it: summer is the ultimate time to throw a party. We hope our summer party ideas have gotten you excited for all that is to come with this new season.
Whether your party is indoors or outdoors, formal or not, everyone is in the mood to take it easy during the hot summer months. We all love attending parties, but someone's gotta throw them. Let that someone be you this year!
Nothing sounds better than: "Remember (insert your name here)'s party last year!? Nothing has topped it since!"
If you have any other ideas, we'd love to hear them!
Anything to Add? Leave a Comment!