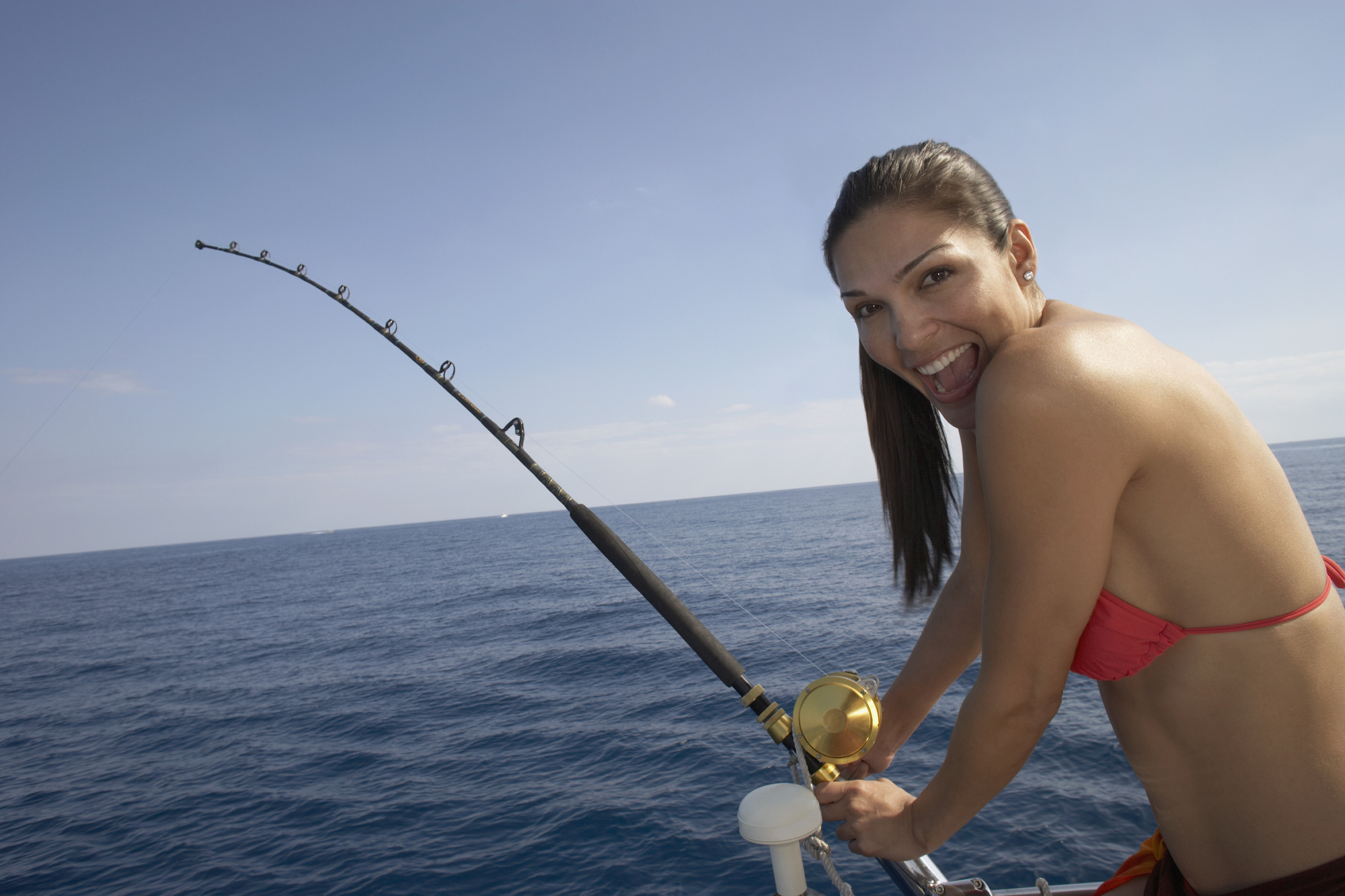 Fishing can be a fun and inexpensive way to spend some time together as a family. Even better, if you're traveling, it's an easy way to keep the kids (and, let's be honest, husband) entertained.
The best part is that you don't have to be near some exotic ocean to see some really cool fish. Many of the best locations are a lot closer than you may think!
From lakes and ponds to rivers and oceans, there are many places to incorporate a fishing trip into your vacation. If it's time for a get-away, consider these 8 destinations, that are fun for the whole family.
1. Martha's Vineyard, Massachusetts
That's right, mom. You can send the family off for a day at the pier, while you sit back and enjoy one of the country's most relaxing islands.
Martha's Vineyard is recognized as one of the best fishing destinations in the U.S. You can expect to see lots of Striped Bass, Bluefish, Bonito and False Albacore. Medium-sized fish are fairly common throughout the Northeast region.
Its location makes it a premier stop in the migratory season, which happens in June and September. (However, migration routes vary greatly from day-to-day. So, check out the themarinebattery.com for the best fish finder.)
2. Hatteras Island, North Carolina
Hatteras is another destination that's popular for fishing that will keep you busy. The "blue marlin capital of the world" is also popular for shopping and beach lounging.
Some of the best charter fishing happens off the coast of this Outer Banks island. But, you don't even have to rent out space on a boat to make this an excellent fishing trip. You can angle away from the stunning beach shore.
Being on the central Atlantic coast, you'll see plenty of Yellow Fin Tuna and Mahi Mahi. You can even catch your own dinner!
3. Kona, Hawaii
How nice does Hawaii sound my friend? The state's largest island is home to the top deep sea fishing destination in the world.
You can fish from miles of white-sand beach that's also surrounded by 5 mountain peaks. Or, if you've embraced the aloha spirit, maybe a local will be nice enough to take you out to where the real action is.
Off the shores of Kona, you can catch fish up to 300 pounds, such as the Pacific Blue. After this crazy excursion, relax with a Mai Tai in-hand, while also enjoying your hand-caught supper.
4. Amazon Basin, Brazil
If you're up for a really adventurous fishing trip, look no further than Brazil. The largest city in the Amazon rainforest, Manaus, is a mecca of freshwater fish.
Holding nearly 3,000 species, the Amazona waters offer a wide range of biodiversity. Although there are endless new faces to see, many travel to Brazil to capture the rare speckled peacock bass.
The Amazon is also great for piranha fishing if your family is up for a real challenge. In Manaus, several companies will take you off-shore so you can catch some of the tiny chompers. Be careful though- their bite can cut through fingers.
5. Cairns, Australia
Along the Great Barrier Reef, about anyone can find a slew of saltwater fish to reel in. But, it takes a real pro to capture the sought-after giant black marlin.
These babies swim up to 80 miles per hour and weigh over 1000 pounds. The 150-mile stretch between Cairns and Lizard Island is the best place to land one of these beasts.
Many come to this Queensland city just for a fishing trip. But, I'm confident you'll find much more going on in the "gateway to Australia's Great Barrier Reef". (It's also deemed Australia's most adventurous city.)
6. Betty Lake, Colorado
Betty Lake is truly one of Colorado's best-kept secrets. To access this small-but-mighty body of water, you have to drive to Nederland and hike nearly 6 miles.
For that reason, this may not be suited for little ones. But, the terrain is fairly easy and you're surrounded by the Indians Peak Wilderness throughout the entire trail. You'll be able to take in some stellar views along the way!
This lake is perfect for those who looking for a more serene and intimate fishing experience. It's easy to get lost in the lush green trees and mountain tops that surround this wilderness park. Also, it's a popular spout to catch some trout.
7. Montauk, New York
Like Martha's Vineyard, this is a great destination to fish in the migratory seasons. It's best to visit Montauk throughout the fall when hundreds of new species are coming in.
You can expect to see lots of smaller fish, so this could be a good spot for little ones. Bluefish, Striped Bass, and Albacore are really popular in this area.
Montauk is located at the eastern tip of Long Island. So, you can spend a relaxing day at the pier after the kids' first trip in the bustling city.
8. Ascension Bay, Mexico
Nearly 100 miles south of Cancun sits one of the best fly-fishing destinations in the world. Ascension Bay's saltwater has many exotic fish species, as well as some regular guys, such as Permit and Bonefish.
This destination is great for families looking to travel in the offseason, especially January and February. If your kids get some time off for spring break, book the flight and grab your gear! Mexico is calling!
You can stay at Punta Allen in Quintana. This large village has miles of beach land for you to conquer.
Where are you going for your fishing trip?
The states have some pretty spectacular fishing regions, which is great for us thrifty mommas. But, go beyond our country lines to experience some of the best fishing in all of the world!
If you're looking to take a trip soon, you've got to check out the Travel section. You'll find tips for vacationing on a budget, traveling with kids, and much more! Also, don't hesitate to contact me if you have any questions!
Anything to Add? Leave a Comment!