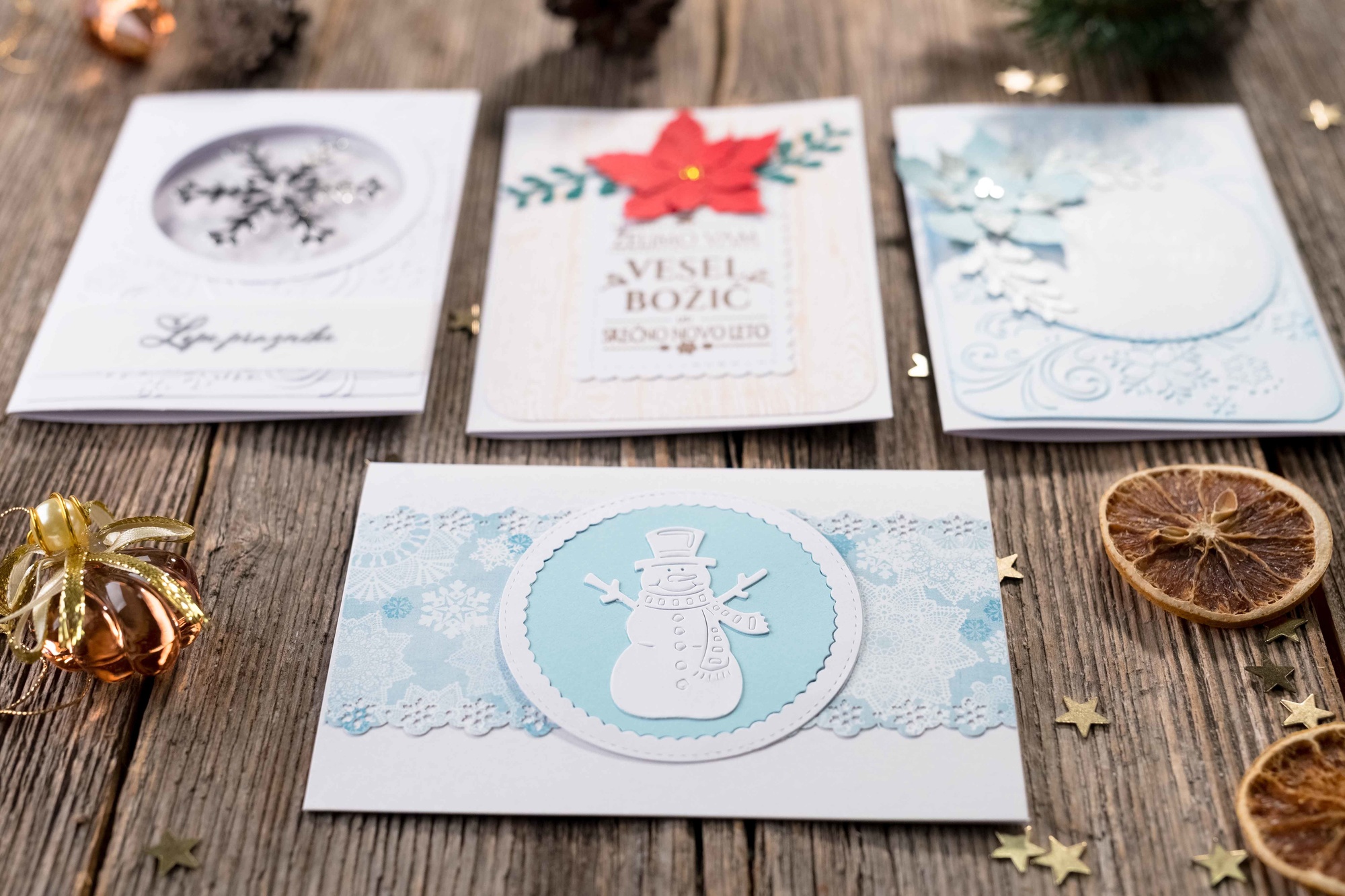 The holiday season is a time of fun and family, gift-giving, and get-togethers, parties and more.
Unfortunately, it's also a time for lots of spending.
From gifts to wrapping paper, food for potlucks, and decorations, it can be easy to blow right through your family's holiday budget. That's why it's great to find little ways to be thrifty and save on small holiday purchases.
One great way to do this is to make your own handmade Christmas cards!
With a little bit of work and some creativity, anyone can craft their own holiday cards. Plus, your friends and family will love the personal touch of a homemade card!
To jumpstart your creativity, check out this list of fun, handmade card ideas!
Sketch it Out
Whether you're an incredible artist or just someone who can sketch out cute characters, a hand-drawn Christmas card is always a great choice.
Besides being inexpensive and simple to make, a hand-drawn card is a great personalized gift for friends and family. They'll love that you took the time to draw the card just for them.
Bonus points if you customize your sketches for each recipient on your Christmas card list!
Your designs don't have to be complicated. Think minimalistic, and choose simple, small images like the outline of a Christmas tree or even a row of tiny Christmas lights. Then get creative with your placement for a modern touch.
Keep it Simple
Creating fun handmade Christmas cards doesn't require extensive artistic skills.
In fact, there are plenty of simple ways to whip up cute cards with little to no skill.
One of the easiest card designs involves choosing small round craft items, like buttons or plastic gems. Glue them onto your card, then draw a small string going upwards from the top of your circle, and ending at the edge of the card.
Just like that, you get cute, 3D ornaments that jump right off the page.
Get Crafty
If you have a little more time on your hands, there are plenty of ways to get crafty with your handmade Christmas cards.
Use die cuts or paper punches to create fun shapes. Mix and match different paper colors, styles, and patterns.
You can even buy fun accents, like Christmas-themed wasabi tape, stickers, or even glitter. Make your designs 3D by adding ribbons, bows, or plastic gems.
Fake Calligraphy Skills
If you love the trend of using beautiful calligraphy on everything from wall hangings to wedding decorations, you'll love this idea for handmade Christmas cards.
Don't worry if you don't know how to write in calligraphy. Simply look up designs that you like online, and print them on carbon paper. Trace over the designs to transfer them to your card, then color them in with markers or pens.
This also opens up tons of opportunity for creating unique cards. You could choose simple holiday phrases like "Merry Christmas." Or get creative and use Christmas song lyrics, holiday rhymes, or a line from your favorite children's Christmas story.
Utilize Another Skill
With a little creativity, you can incorporate other craft skills you have into the designs of your handmade Christmas cards.
For instance, if you love to embroider or sew, you can stitch trees, ornaments, and other holiday designs right onto thick paper.
If your talent is poetry or other forms of writing, make words the focal point of your card. Craft a fun or heartfelt message, and type or write it out on the front of your cards in a fun font.
If your skill is photography, check out the next idea on this list for a fun way to incorporate your talent into your cards.
Make it Personal
If you don't have time to craft your own handmade Christmas cards, or you're just looking for a more personal touch, why not create your own photo postcards?
With My Postcard, you can design custom postcards featuring your favorite photos. Use photos of your kids sitting on Santa's lap, a cute snap of you and you're significant other in the snow or even vacation photos from last summer.
If you can't decide which photo to use, you can even create a collage of several different photos.
Postcards are a great option for Christmas cards. With less space to write, you won't have to worry about crafting anything other than a short, heartfelt greeting. Plus, you'll save on postage!
Get the Kids Involved
Creating complicated handmade Christmas cards might be better suited for adults. But there are also plenty of fun designs that your kids can help with!
Make hand-print Christmas trees with a little bit of finger paint. Then, let your kids draw on their own ornaments, lights, and tinsel.
Create thumbprint reindeer pulling a thumbprint Santa in a sleigh.
You can even punch holes in the front of your cards in the shape of Christmas trees, angels, or other holiday shapes, and let your kids thread colored yarn through the holes to fill in the shapes.
When your little ones are done helping with the Christmas cards, there are plenty of other fun holiday crafts that they can do!
Thread red and white beads onto pipe cleaners and shape them into candy canes for fun ornaments. Or, paint toilet paper rolls white and let your kids decorate them as mini snowmen.
Start Crafting Your Own Homemade Christmas Cards Today
With a little bit of creativity, anyone can craft their own handmade Christmas cards. Besides saving you tons of money, these are also a great way to give your cards a personal touch that your friends and family will love.
But the savings and personal touch don't have to end with your cards. There are also plenty of DIY gifts that you can make and give to everyone from coworkers to your kids' teachers.
For a handmade gift that everyone will love, check out these DIY peppermint candy bath bombs! They're easy to make and fun to give. Simply wrap them in clear gift bags and add a festive ribbon, and you'll have the cutest gift at your next exchange.
Anything to Add? Leave a Comment!