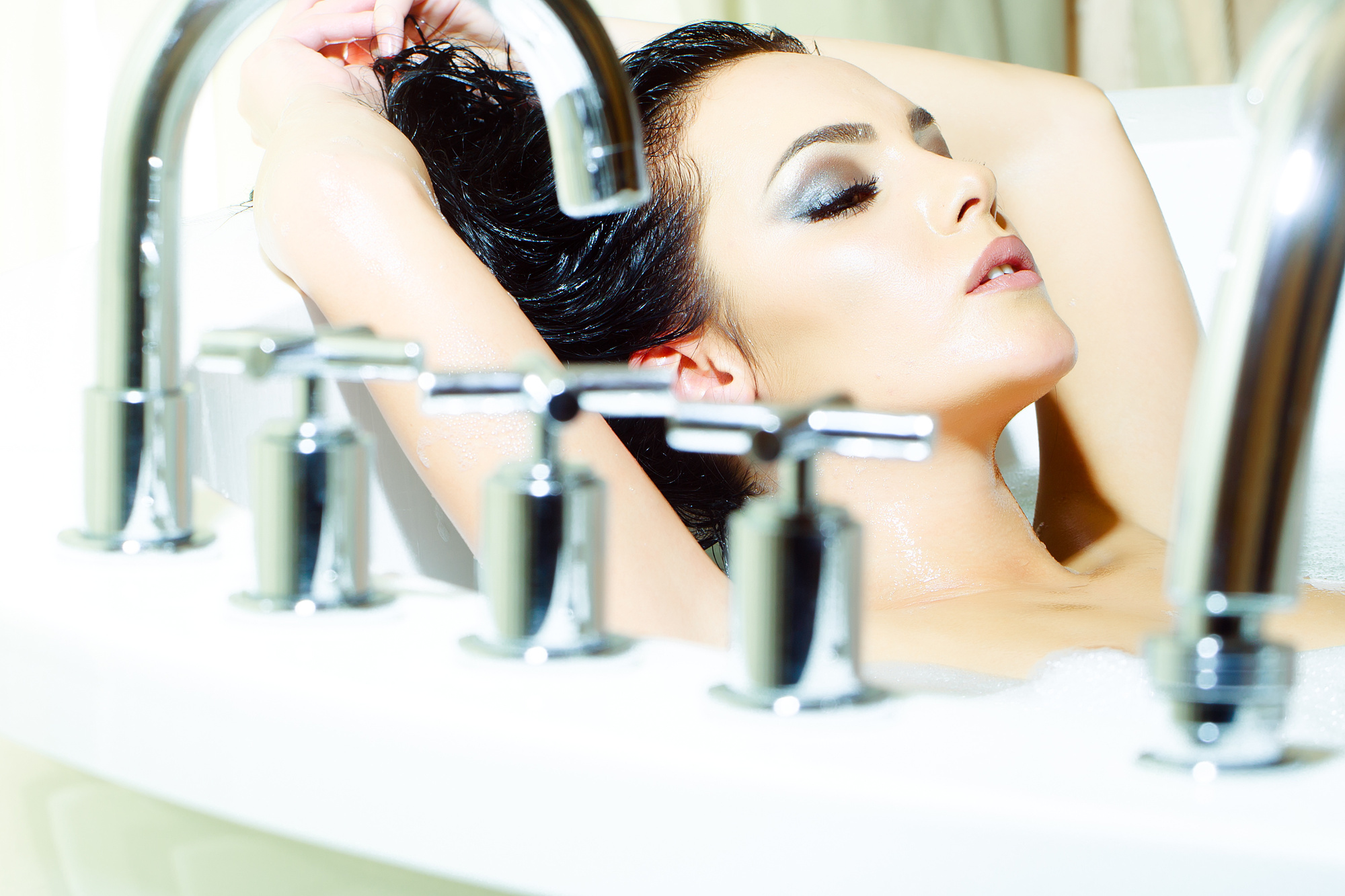 While diet and exercise are some of the keys to a healthy life, the importance of relaxation can't be understated.
When you're stressed, tired, overwhelmed, or just need some good old 'me time', there's nothing quite like having a long soak in the bath. As well as having a calming effect, baths have a number of benefits to the body. In fact, they've been proven to help with muscle soreness, breathing, and even hormone balance.
How do you like your bath? Creamy? Bubbly? Therapeutic?
No matter what your preference is, we've got something for you. Here are our favorite oils, bombs, creams, and crystals for you to try.
1. Lush Twilight Bath Bomb
For bath bombs, Lush is the best in the business. They're each made with natural products from sustainable sources, and absolutely never tested on animals.
Even if you're not an eco-warrior or animal activist, you can benefit from their bubbly bath bombs. There's something incredibly satisfying about watching them fizz away in the water, and they fill your bath with some crazy colors, too. Our favorite bath bomb for pure relaxation is Twilight, which will turn your bath a shimmering shade of deep purple.
It's made with balancing and calming lavender oil, which is commonly used to treat insomnia. It's designed to calm your mind, soothe your body, and aid restful sleep.
2. Ancient Minerals Magnesium Bath Flakes
If you're looking for medicinal bath products, give Ancient Minerals a try. A bath with magnesium chloride flakes provides detoxifying pain relief and cell restoration. It also improves skin hydration and decreases inflammation.
While this may sound similar to the effects of Epsom salts, there are distinct differences between the two. To learn about how Epsom salts and magnesium flakes differ, click for more.
3. Molton Brown's Rose Absolute Bath Oil
This rose-scented bath oil is infused with blackcurrant and geranium, so if you love floral aromas, this is a great choice for you.
It also contains argan oil, which leaves both your hair and skin silky and smooth.
4. Bath & Body Works Aromatherapy Massage Oil
You can't go wrong with Bath & Body Works. This company is known for producing great ranges of bath products with incredible scents. That's why it's America's biggest mall beauty brand.
Their aromatherapy massage oils come in a variety of forms, each one specially designed to ease a different problem. There's 'Sleep' with lavender and cedarwood, 'Focus' with eucalyptus and tea, 'Stress Relief' with eucalyptus and mint, 'Happiness' with bergamot and mandarin, and 'Comfort' with vanilla and patchouli.
Whichever one you choose, you're bound to have a relaxing bath. These oils release powerful but soothing scents, and absorb quickly into the skin to give it more moisture. Just lay back, relax, and breathe.
5. Aveeno Soothing Bath Treatment
If you're suffering from irritating skin problems like eczema, insect bites, psoriasis or sunburn, this is the bath product for you.
Aveeno's Soothing Bath Treatment is formulated to treat conditions like these, using colloidal oatmeal as the main ingredient. It will put a stop to burning and itching, moisturizing your skin and providing temporary protection.
This one comes in a powder form. Just pour it into warm water for a soothing, milky bath.
6. Burt's Bees Therapeutic Bath Crystals
When you're exhausted at the end of a long, hard day, these bath crystals are exactly what you need.
They're created with natural sea salt, lemon oil and eucalyptus oil, which help to soothe tired, aching muscles. Slip into a bath with these, and your soreness will melt away. The eucalyptus will also open your airways, allowing you to breathe easily.
7. Body Shop Strawberry Body Polish
An exfoliating treatment is one of the most important bath products to have, and should be an essential part of your self-care routine. Most people forget to keep up with it when they're rushing in and out of the shower every day, but bath time is the perfect opportunity to give your skin the time and attention it needs.
Buff your skin while you soak with The Body Shop's Strawberry Body Polish.
It contains tiny microbeads which gently exfoliate, removing dead skin to make you softer and smoother. It also contains cold-pressed strawberry oil, which gives it that delightfully sweet scent.
If strawberry isn't your thing, there's a whole range of other fragrances, including festive, seasonal varieties like plum, frosted berries, and vanilla chai.
8. Aveda Stress-Fix Soaking Salts
Aveda promises to 'transform your bath into a sanctuary from stress' with these soaking salts. They combine mineral-rich salts with aromatic essential oils to provide a truly relaxing experience.
Scented with lavender and sage, these salts will melt your stress away. Just put two tablespoons into a warm bath and soak for as long as your heart desires.
Aveda is also a certified cruelty-free brand, which means they conduct no animal testing.
9. Laura Mercier Fresh Fig Honey Bath
This formula is great for a skin pampering session, with ingredients like shea butter, macadamia nut oil, almond, and oats. There's also Pro-Vitamin B-5 for extra moisturizing properties.
The scent is a gorgeous blend of honey, fig, apricot, and ylang-ylang, which is both sweet and earthy.
It even comes with a wooden honey dipper. Dip it into the pot, twirl it under the tap, and watch the bubbles form.
10. Susanne Kauffman Oil Bath for the Senses
This bath oil contains a blend of ylang-ylang, patchouli, and lavender, which creates a calming aroma. As well as relaxing the senses, these essential oils also nourish your skin, leaving it hydrated, soft and supple.
Treat Yourself With Any of These Bath Products
With these bath products, you're bound to emerge from the tub feeling relaxed, rejuvenated and stress-free. However, sometimes you need a little more than that.
When a bath just won't cut it, consider getting a professional massage. As well as giving you some time out from your busy life, it can lower your blood pressure, ease aching muscles, and help you get a better sleep.
For more information, see our post on why every woman could use a massage for relaxation.
Anything to Add? Leave a Comment!