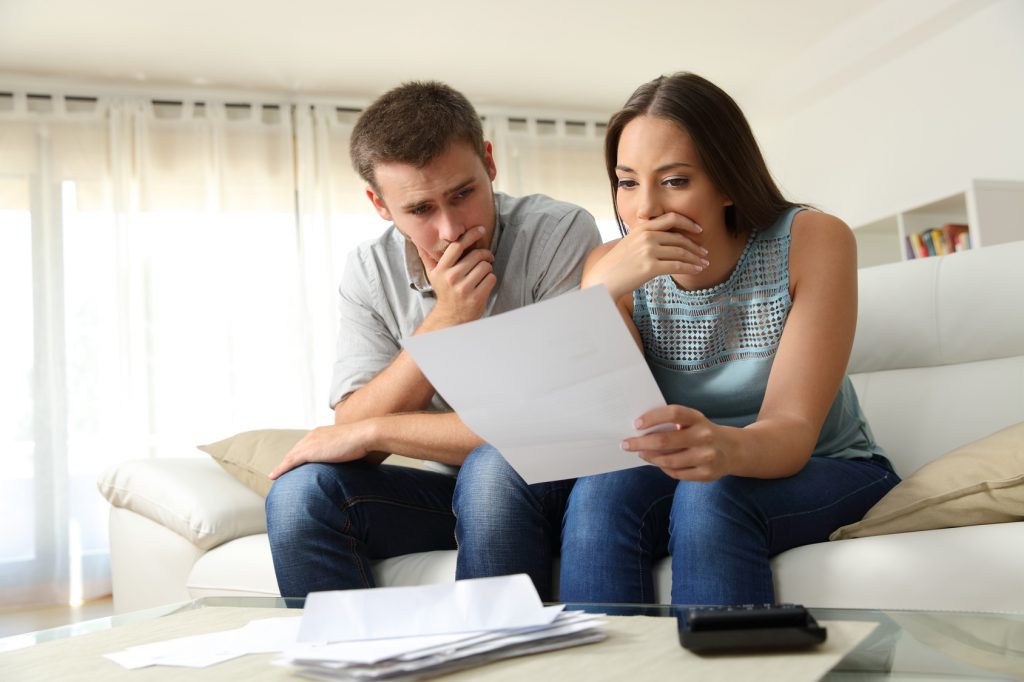 Did you know research shows the average credit card interest rate is 13.66% in the U.S.? And the average debt held by balance-holding households is over $16,000.
With these staggering statistics, it's no wonder many people don't have the most stellar of credit history.
Let's take a look at 7 things you need to know about bad credit home loans.
1. Obstacles That Make it Difficult to Buy a House With Bad Credit
We'd all like to be debt-free. That's just not always the reality of our situations.
When you have a bad credit score, it can be easy to feel like you'll never be able to purchase a home. But that's not true.
There are challenges to be aware of that come along with bad credit. Here are a few you need to have on your radar.
Denial of a Mortgage Loan
We've all made mistakes with our money. And your credit score is a constant reminder of these mistakes.
A good credit score is considered 750 or above. And a score that looks like this will get a buyer approved for a mortgage easily.
However, a credit score below 670 is grounds for denial of a mortgage for most mortgage lenders.
Denial of the Best Interest Rates
A high credit score will also get a home buyer the most competitive interest rates around. While lower credit scores leave a lot to be desired in this area.
Whether you're wanting to do home buying or condo buying, a credit score under 670 will make it incredibly hard to complete the process. This is where bad credit home loans can help you out.
2. Ways You Can Compensate For a Low Credit Score
You can repair your credit. But it sometimes seems to take forever. While it's good to routinely work on this, there are also other ways to make up for a low score. A few situations that can compensate for a low credit score are:
A substantial amount in your savings
High current income
Potential for promotion with present employer
Paying comparable amount as rent
High down payment plan
Consistent and solid employment history
Of course, these factors are not always possible to salvage your bad credit score. But meeting even one of them will help your odds.
3. Finding Lenders That Work With Buyers With Bad Credit
There are lenders who work with first-time home buyers and those with bad credit by offering bad credit home loans.
Federal Housing Administration
The Federal Housing Administration offers an FHA loan for those with a poor credit history. These loans provide low down payment and low credit options.
The FHA loan can be available to those with a credit score of 580. This loan provides a low down payment of 3.5%.
If your credit score is between 500 and 579, you may still qualify for an FHA loan. But you'll typically be offered a 10% down payment to compensate for the low credit score.
Requirements for FHA Mortgage Loans
To qualify for an FHA loan, you'll need to have:
A 580 FICO score or above
Confirmable income
Steady employment with a minimum of 2 years in the same type of work or with the same company
3.5% down payment
Zero late or defaulted payments within the past one year
FHA Loans With No Credit History
If you've never had a line of credit in your name, a lender may be willing to use alternative credit valuations. These may include areas such as rent payments, phone bills or utility bills to support a solid payment history.
For this alternate option to be valid, you must have 12 months straight with zero delayed payments.
These FHA loans are ideal for first-time buyers with a poor credit history. But remember, the ultimate decision to qualify you for a loan remains with the individual lender.
VA Loans For Veterans with Poor Credit
The VA loans provide veterans with the option of receiving financial support in purchasing a new home.
The VA loans provide 100% financing and zero monthly mortgage insurance premiums. These loans also offer flexible credit score requirements.
4. Gather Quotes
Before making a decision on which loan to agree to, shop around for the best deal for your situation.
A good rule of thumb is to obtain at minimum 3 quotes from various lenders. Compare the interest rates, required down payments and loan fees.
Fear of Lowering Your Credit Score
Oftentimes, prospective home buyers are worried that shopping around for the best mortgage loan deal will negatively affect their credit score. But not to worry.
FICO provides a one month window for you to rate-shop. During this time, all inquiries from mortgage companies will register as only one inquiry.
So, you can let go of the hesitation for fear of impacting your credit score.
5. Down Payment Assistance and Grants
As a first-time home buyer, you may qualify for assistance with the down payment or a grant.
If you receive low or moderate income, you're in the running for this type of assistance. It often aids in covering the cost of the down payment and some of the closing costs.
6. Local City and County Home Buying Assistance
There are home buying assistant programs in nearly every city and county. You can check the city or county's official website for any available options.
As with any of the other loan options, you'll be required to meet specific criteria. Most financial assistant programs through your city will require you to complete a home buyer's educational course, as well.
7. Bring Your Credit Score Out of the Red Before Closing
There are a few ways you can rapidly enhance your credit score. You can:
Bring your credit card balances down to below 10%
Ensure all current payments are made promptly
Don't apply for credit
Contest any false content on your credit report
Before you apply for bad credit home loans, bring your credit score out of the red as quickly as possible.
Bad Credit Home Loans
Having bad credit doesn't mean you're stuck. We all have times when it feels like we just can't crawl out of an overwhelming situation.
But you can at least arm yourself with the facts to stay informed.
These are our top tips for buying a house with a bad credit home loan. What would you add? Comment below!
Anything to Add? Leave a Comment!