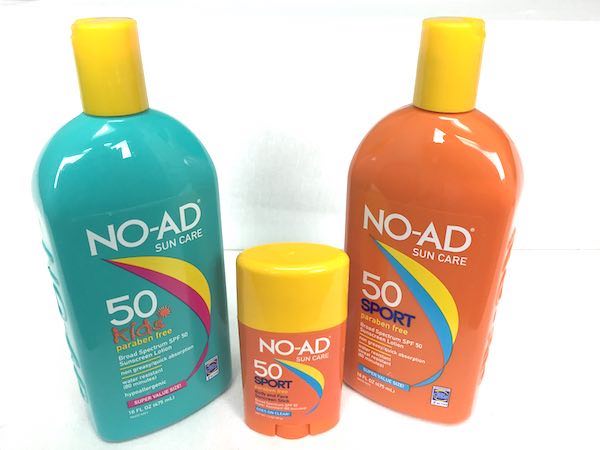 This is a Sponsored Post. All Opinions are 100% Thrifty Momma Ramblings.
Summer is here! Let the fun begin! As we make plans to head out and enjoy our days in the hot sun, it is important that we stay safe. Thanks to NO-AD Sun Care, we can. According to the The American Academy of Dermatology, nearly 9,500 Americans are diagnosed with skin cancer each day. Whoa! We cannot underestimate the proper use of sunscreen on ourselves and on our kids. All NO-AD sunscreens are PABA-, paraben-, and retinyl palmitate-free. Notably, all lotions SPF 15 and higher have received The Skin Cancer Foundation's Seal of Recommendation for "safe and effective protection." I use NO-AD Sun Care in my home. It is cost-effective and it works. To help you know how much and how often to apply sunscreen, NO-AD has put together an awesome infographic to help your family have a safe and enjoyable experience outside.
But how well it works depends on you. A recent survey was conducted with moms concerning sun care and it was a wake-up call for me. The survey, conducted on moms with kids 18 and under, discovered that nearly two in 10 moms (17%) were unaware that, after their initial slathering of sunscreen, they needed to reapply after extended exposure. The survey also revealed that fewer than half of moms (48%) know the correct amount of sunscreen they need to apply to the face and body while at the pool, lake, or beach. More than half of moms surveyed (54%) thought that the proper time to apply sunscreen is as soon as they start feeling their skin burning. I confess that I was guilty of this, but the safety of my kids is not something I want to guess at. Then, this really got me. The survey revealed that nearly 2 in 10 (17%) confessed that their reason for not reapplying sunscreen was that they wanted a tan — this, despite widespread warnings about the dangers of skin cancer from unprotected exposure. I admit that I wish I was a little darker, and sometimes I don't put very much sunscreen on in hopes of just burning a little so it will turn tan. Not anymore!
NO-AD Sun Care is the brand I trust for my family. I am not taking any chances and NO-AD's Skin Cancer Foundation's Seal of Recommendation puts me at ease knowing I am keeping my family safe. Several relatives of mine have gotten skin cancer in the last couple of years. By their own admission, they didn't put on enough sunscreen and never reapplied it despite spending hours and hours in the sun.  Dr. Richard C. Kirkpatrick, a dermatologist in Florida said it best when he said "Understanding both application frequency and amount is essential to proper sun care. You cannot have one without the other..". 
Don't let cost keep you from applying the protection you need. NO-AD Sun Care is a great value and costs less per ounce than other brands. Get as much as you need without breaking the bank. Enjoy your time in the sun and stay #NOADSunSmart! PLUS, TMR fans will have a chance to enter to win $75.00 in NO-AD products! Don't miss it!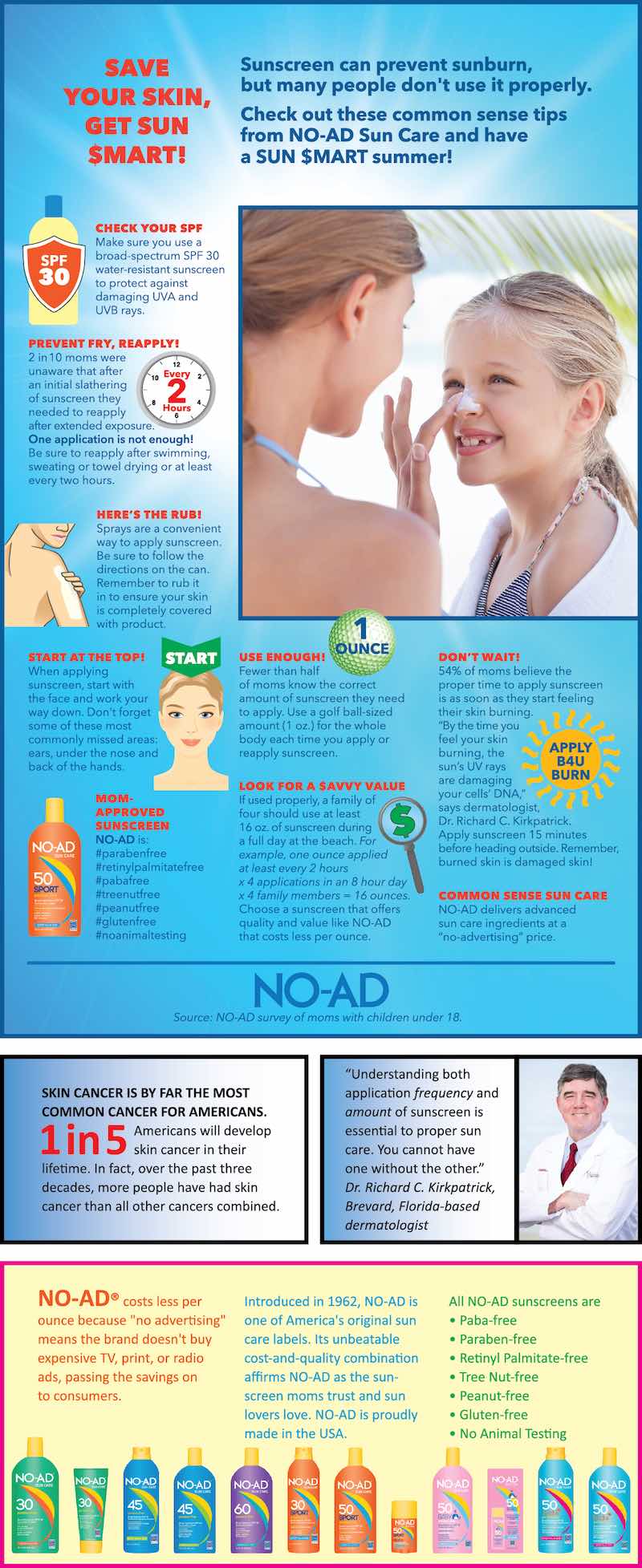 Anything to Add? Leave a Comment!