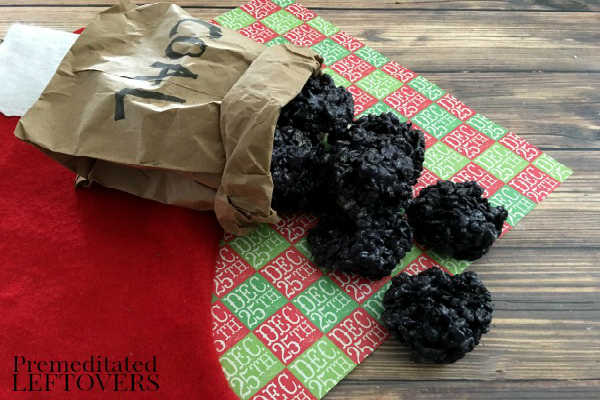 Lump of Coal Rice Krispie Treats Recipe!
Have your children been naughty this year? Regardless of their behavior, wouldn't these Lump of Coal Rice Krispie Treats be fun to make this year? I haven't made this sweet treat yet, but it looks both easy and inexpensive to make at home. Plus, my kiddos love Rice Krispie treats! If you'd like to make this Christmas-themed dish as well, be sure to have the following ingredients ready:
3 cups miniature marshmallows or 30 large marshmallows
1 1/2 tablespoons butter
4 cups rice cereal
1 1/2 cups crushed Oreo cookies (leave the filling in the cookies)
4 – 10 drops black gel food coloring (enough to turn the marshmallows black. The amount will depend based on the brand you use).
For more directions on making this recipe, be sure to visit the Premeditated Leftovers Webpage for further details. Let us know your thoughts on these treats in the comments below. We'd love to know if your family enjoyed this recipe!
Anything to Add? Leave a Comment!