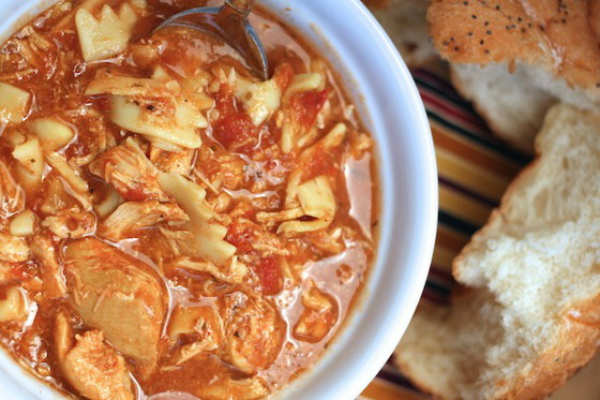 Slow Cooker Chicken Salsa Soup Recipe!
Are you wanting to use your slow cooker rather than the oven on hot summer days? If so, then you must try this Slow Cooker Chicken Salsa Soup recipe! I recently tried this soup on a rainy day and my husband loved it. So, I'll be making this dish again and again. Want to make this recipe as well? If so, be sure to pick up the following ingredients:
3-4 whole chicken breasts
28 oz. tin of stewed, diced tomatoes (I like the ones with the spices added, but use what you have on hand)
28 oz. of water (obviously we're just using the tomato tin here)
chicken bouillon (look on the packaging to see how much is needed for 28 oz of water)
1 cup of your favorite salsa
1 large onion, diced
2-3 cloves garlic, crushed
2 tsp cumin
1 tbsp chili powder
ground pepper
salt to taste (add at the end of cooking)
cup of pasta – I used bow-tie pasta this time (you could also use rice)
dash (approx 1 tbsp) lemon juice or lime juice
optional add-ins: black beans or lentils, celery, corn, carrots etc.
optional garnishes: shredded carrots, avocado, cilantro, sour cream
For further directions on making this recipe, be sure to visit the Happy Hooligans Webpage. Let us know what you thought of this dish in the comment section below, because we'd love to hear from you.
Anything to Add? Leave a Comment!