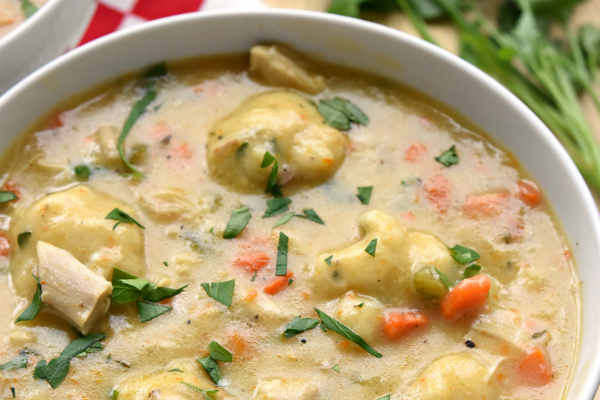 Perfect Chicken & Dumplings Recipe!
My family absolutely loves chicken and dumplings! So, I recently found a new dumpling recipe and had to try it. As expected, my entire family devoured this meal. If you like this classic dish too, then be sure to make this version. Feel like making this recipe too? If so, here are the ingredients you'll need to pick up:
1 tablespoon extra-virgin olive oil
1 tablespoon butter
2 1/2 pounds skin-on, bone-in chicken pieces (all thighs or a whole cut up chicken or a mixture of light & dark meat)
Salt and freshly ground black pepper
1 cup chopped celery
2 cups diced carrots
3 garlic cloves, minced
1 1/2 tablespoons fresh thyme leaves (or 1 1/2 teaspoons dried thyme)
3 bay leaves
1/2 teaspoon garlic powder
1/2 teaspoon onion powder
10 cups low-sodium chicken broth
1 teaspoon sherry
2 1/4 cups all-purpose flour
1/2 cup cornmeal
1 tablespoon baking powder
1/2 teaspoon baking soda
6 tablespoons (3/4 stick) unsalted butter, melted
3/4 cup buttermilk, at room temperature
2 tablespoons minced fresh parsley, plus more for garnish
For further instruction on making this dish, be sure to visit the Five Heart Home Webpage! We'd love to hear from our readers in the comment section below.
Anything to Add? Leave a Comment!