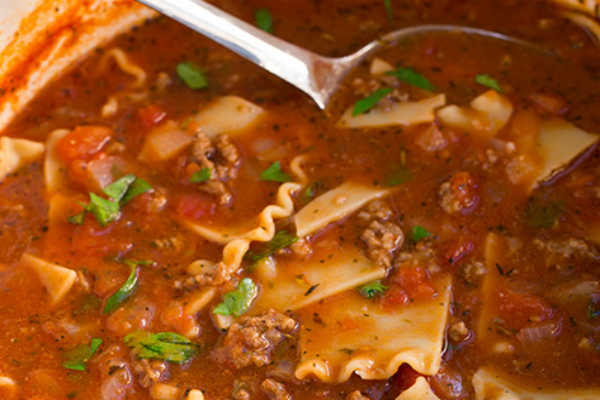 Lasagna Soup Recipe!
Enjoy lasagna? If so, why not try this Lasagna Soup Recipe?! I have not tried this dish myself yet, but I think my husband would love it! It looks delicious and relatively easy to make at home. Lasagna is a family favorite dish, so we will be trying this soup soon! Want to make this yummy dish yourself? If so, you will need the following ingredients:
2 Tbsp extra virgin olive oil, divided
1 lb lean ground beef
1 large yellow onion, diced (2 cups)
3 – 5 garlic cloves, to taste, minced
4 cups low-sodium chicken broth
1 (14.5 oz) can petite diced tomatoes
1 (14.5 oz) can crushed tomatoes
2 1/2 Tbsp tomato paste
1 3/4 tsp dried basil
3/4 tsp dried oregano
1/2 tsp dried rosemary, crushed
1/2 tsp fennel seeds, crushed
1/2 tsp dried thyme
1 tsp granulated sugar
1 1/2 Tbsp chopped fresh parsley, plus more for garnish
Salt and freshly ground black pepper, to taste
8 lasagna noodles, broken into bite size pieces (6.5 oz)
1 1/4 cups shredded mozzarella cheese (5 oz)
1/2 cup finely shredded parmesan cheese (2 oz)
8 oz ricotta cheese
For additional directions on how to make this recipe, be sure to visit the Cooking Classy Webpage! Let us know if your family enjoyed this recipe in the comments below. What recipes have you been making lately?
Anything to Add? Leave a Comment!