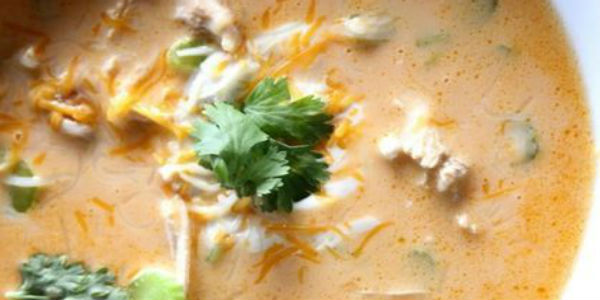 Buffalo Chicken Soup…Low Carb Recipe!
Want buffalo chicken for dinner tonight or this weekend? If so, You must try this Buffalo Chicken Soup recipe, which is very low-carb and delicious! I love eating soup when dieting, because it fills me up. Want to make this dish as well? If so, be sure to pick up the following soup ingredients:
6 cups chicken stock
8 ounces cream cheese
2/3 cup favorite Buffalo Sauce
1/2 cup milk
1/2 cup heavy cream
6 tablespoons butter
Salt and pepper
1 rotisserie style chicken, meat chopped
1/3-1/2 cup chopped celery
Cilantro, as desired
Ranch or bleu cheese dressing
Shredded cheese, if desired
For additional directions on making this low-carb recipe, be sure to visit the Dough Messtic Webpage for more details. Let us know if you enjoyed this recipe, because we love to hear from our readers.
Anything to Add? Leave a Comment!