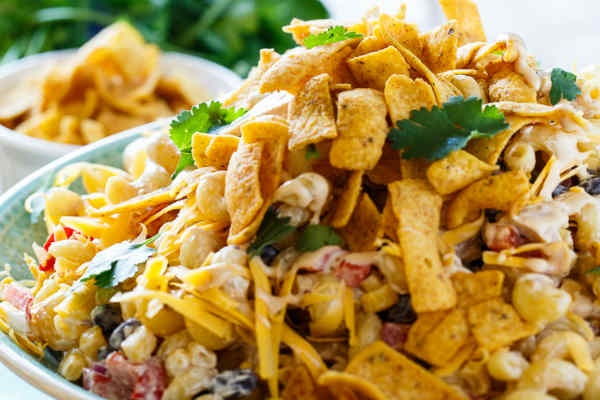 BBQ Ranch Pasta Salad Recipe!
Need some ingredients for an upcoming barbecue or pot luck? If so, then you need to check out this BBQ Ranch Pasta Salad Recipe! I have not yet made this myself, but you cannot go wrong with corn chips and pasta. Want to make this recipe too? If so, here are the ingredients you'll need to purchase or pick up:
1 pound pasta, cooked until al dente (I used cavatappi)
1 cup Hidden Valley® Honey BBQ Dressing
⅓ cup sour cream
1 can black beans, rinsed and drained
1 cup canned corn, drained
½ red bell pepper, diced
½ small red onion, finely diced
1½ cups diced cooked chicken
1 cup shredded cheddar cheese
2 tablespoons chopped fresh cilantro
1 cup corn chips
Let us know what you thought of this salad recipe in the comments below. Also, what recipes have you been making this summer? We'd love to know! For additional directions on making this dish, be sure to visit the Spicy Southern Kitchen Webpage.
Anything to Add? Leave a Comment!