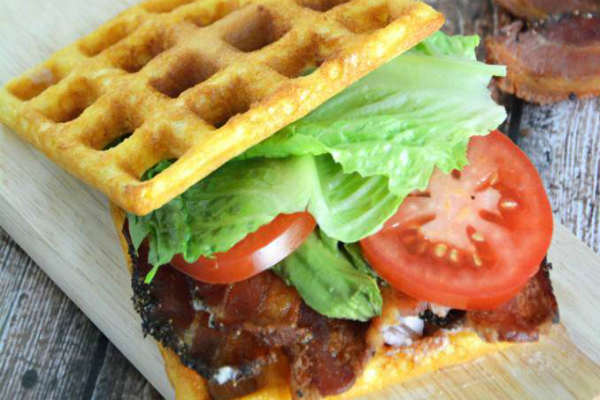 Cornbread Waffle BLT With Garlic Aioli Recipe!
Have you ever made a sandwich with a waffle? If so, you must! I just recently made a different variation and it was delicious! So, I must try this new Cornbread Waffle BLT With Garlic Aioli recipe! This sounds like a delicious lunch idea, doesn't it? Here is what you will need:
Waffles:
1 egg
1 Tbsp butter, melted
1¼ cups unsweetened plain almond milk*
½ cup greek yogurt
¾ tsp salt
¼ tsp black pepper
1½ tsp baking powder
¾ cup yellow cornmeal
½ cup all purpose flour (I used Bob's Red Mill Gluten Free Flour)
Remaining Ingredients:
8 slices bacon
4 leaves romaine lettuce, trimmed
1 large roma tomato, thinly sliced
1 avocado, thinly sliced
1 can (14.5) Red Gold Garlic & Olive Oil Tomatoes, drained
½ cup plain greek yogurt
For more directions on assembling this sandwich, be sure to visit the Salt & Will Webpage! Let us know if you enjoyed this recipe and if you plan on making more sandwiches with waffles.
Anything to Add? Leave a Comment!