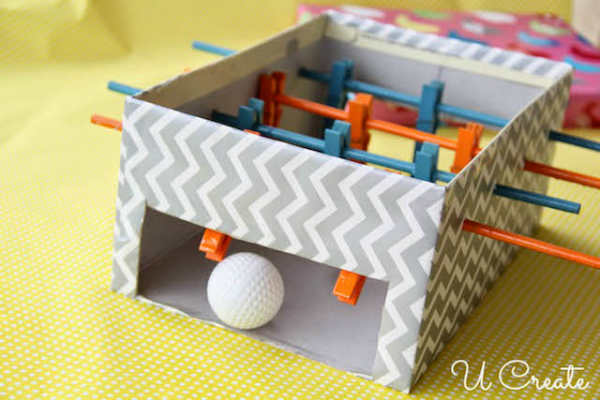 DIY Mini Foosball Table! Inexpensive & Fun!
I found such an interesting craft idea today! Did you know that you can make a mini foosball table for your kids? I sure didn't! This DIY project looks fast and pretty inexpensive, so do not miss out on the fun. I cannot wait to try this with my own children this weekend, wohoo! Plan on making this craft for your kids? If so, here are the supplies that you will need:
shoebox
small wooden dowels
clothespins
utility knife
Sharpie Marker
ruler
hot glue gun and glue
wrapping paper to cover the box
spray paint
clear tape
ping pong balls
How did your Mini Foosball Table turn out? Be sure to let us know in the comments below. We love to hear from our readers. For additional directions on how to make this craft at home, be sure to visit the Create Crafts Webpage for more.
Anything to Add? Leave a Comment!