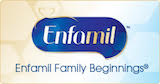 Enfamil is a trusted product that has kept many newborn belly's full and new parent happy!  What would you do with free products from Enfamil? Did you know that Enfamil has products to match your growing baby!
Let Enfamil® help you nourish milestones. Join Enfamil Family Beginnings. You'll get trusted advice for every stage of your baby's development, plus discounts on Enfamil products, free samples and goodies, such as an Enfamil Pack 'n Cool™. This offer is intended for U.S. residents only.
Start your baby on the right track!
Anything to Add? Leave a Comment!