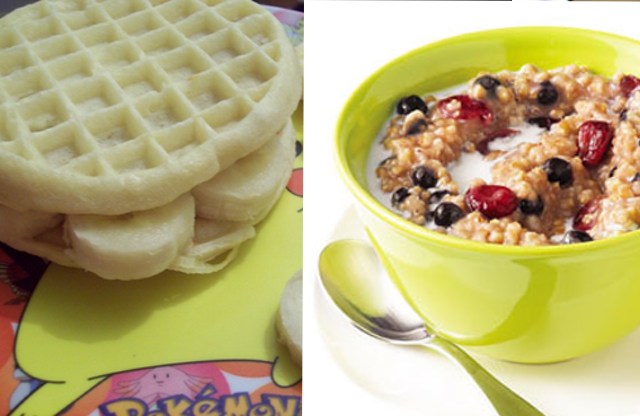 5 Easy Breakfasts for Busy Mornings! Everyone is always looking for ways to gain a little extra time in our day without skimping on meals. I decided to share with you 5 Easy Breakfasts for Busy Mornings. As we all hear it is the most important meal of the day so lets make it easier.
1. Peanut Butter Banana Smoothie
Smoothies are a perfect quick and easy breakfast to make with ease. Blend 1 frozen banana, 2 tablespoons peanut butter, 1 cup almond milk, and several ice cubes. Tip: Add a scoop of your favorite chocolate or vanilla protein for an extra protein boost. To make this easy on the go just pour the smoothie into a twist cup with a straw to enjoy your breakfast while on the move.
2. Slow Cooker Maple-Berry Oatmeal
Steel-cut oats take a long time to break down; this recipe makes it easy by simmering them overnight in a slow cooker. Plus you get to amp up flavor with dried cranberries and blueberries (or you other favorite fruit) and maple syrup.
8 c. water, 2 c. steel-cut oats, ½ c. dried blueberries, ½ tsp. salt, 1 c. Dried Cranberries, ¼ c. maple syrup
This easy recipe cooks over night, so the night before combine the water, oats, blueberries & salt in a slow cooker. Cover and let it cook on low 7 to 8 hours or until oats are tender and creamy to your liking. Before eating stir in the cranberries and syrup.
3. Fruit and Yogurt Parfait
One of the easiest, healthiest, and tastiest breakfasts you can have in a pinch to keep you enjoying breakfast on the go. All you need is some yogurt and your favorite fruits. Try choosing fruits that are in season for the most flavorful budget friendly options.
4.Leftovers and Egg
Trying to figure out what to do with last night's leftovers? Take those leftovers of veggies, potatoes, or meat in a tupperware or glass container. Then pull an egg out of the fridge and crack the egg on top, then heat in the microwave until the egg white is cooked through, 30 to 45 seconds. Then enjoy your yummy breakfast.
5. Eggo Waffle PBJ-Wich
Don't miss your change for an Eggo which on the Go! Prepare 1 whole-grain toaster Eggo waffle and slice in half. Spread with 2 tablespoons peanut butter. Then layer in 2-3 sliced strawberries (or your favorite fruit of choosing like blueberries or banana.) on top in place of the traditional jelly if you like.
Anything to Add? Leave a Comment!