One of my most favorite thing in life is mason jars.  I store everything in them and decorate with them every chance I get. I love the look of distressed paint on the mason jars.  These painted jars will make the CUTEST Spring look in your home! Below are just a few ideas that you can do with painted mason jars, and the instructions you need to achieve this look are further in the post.  Scroll down, and enjoy!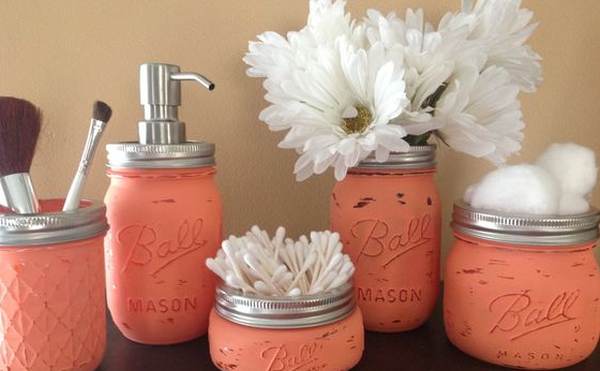 If you're starting with a new case of mason jars, you are ready to begin. If using old mason jars,  scrub the jars with rubbing alcohol and then wash with hot, soapy water. Dry completely.
Pick out your favorite type of chalk paint. Rust-Oleum makes a great chalked paint line.
Turn mason jars upside down and start with two coats of paint. Let paint dry completely between coats. If using acrylic paint for your project you have to give the jars 24 hours dry time between coats of paint; otherwise when you apply the second coat it might peel off some of the first coat paint.
Once dry use 80 grit "No-Slip Grip" sandpaper.  Cut into rectangles and then fold over, giving you two sides to work with.
To start the distressing process,  rub the sandpaper along the threads at the top of the jar. Next rub the sandpaper on the ridges, raised edges, and sides of the jars. Rub the sandpaper all over the fruit graphic and along the words.  See pictures (above)  for ideas on where to distress.  Go easy at first, you can always rub more paint off if necessary.
Finish with a sealant. An acetone based clear coat in matte finish is best.
When caring for the jars don't submerge jars in water or put in dishwasher. Simply wipe down. And take care when filling with water. While the sealant makes the finish much more durable — and the chalk paint offers a much, much stronger bond that's near impossible to scrub off than acrylic paint — it's still considered a semi-permanent finish.
Thanks for the instructions, ItallStartedWiththePaint!
Anything to Add? Leave a Comment!