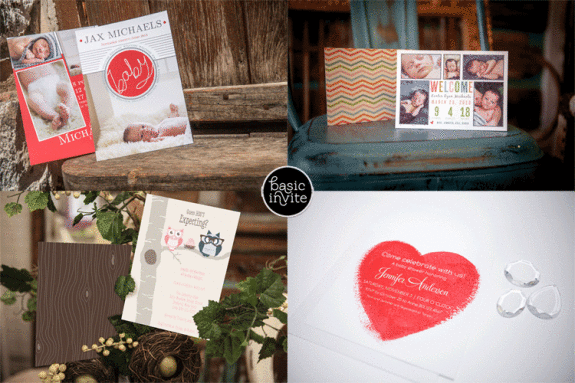 If you're like me, you might like to do things with a little flair and a personal touch. I feel like I spend hours looking through hundreds of cards at the store, and I can never seem to find just the right one.
I recently came across BasicInvite.com, and I'm not sure I'll ever buy a store-bought card again. This site makes is so easy to create beautiful, professional cards, and you don't have to be a computer wiz to do it. And with their live preview option, you'll know exactly what your card looks like before it's ever printed.
The process is so simple. You can have a card created to your exact tastes in just minutes. You just pick a template you like, upload your photo directly to it, and start customizing the wording. Before you know it, you'll have the perfect card ready to print! They offer pages and pages of beautiful templates and fonts to work with, so your card will be truly unique. Your friends will think you had a your cards professionally done by a designer!
To me, the best part about Basic Invite is that they have a "Love it, or we'll make it right" guarantee! You don't have to worry about being disappointed. And if you're in a hurry, you can have them printed and delivered in just 5 days! Basic Invite has been passionately helping people create beautiful personal cards since 2008, and their expertise shows!
Take a look at their beautiful Birth Announcement Cards, Baby Shower Invitations, and First Birthday Invitations! Aren't they beautiful?!
I'm so glad I found Basic Invite. I hope you'll find them helpful for you, too!
Anything to Add? Leave a Comment!