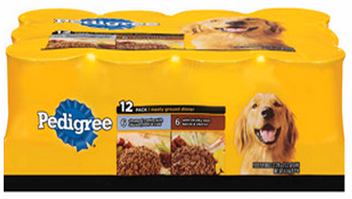 You can get FREE Pedigree Ground Dog Food 12 Pack after TopCashback offer!
Good for Both NEW and Existing Members! Walmart is selling a 12 pack of Pedigree Dog Food for either $8.88 or $8.98! You will get $9.99 cash back in your account making it FREE with a little money maker plus choose to pick it up in the store. Don't have a dog then still get this freebie and donate to a local pet shelter or maybe a neighbor!
HOW TO GET THE DEAL:
In honor of National Day of the Dog this Tuesday, August 26; Americans can visit WalMart through TopCashback, purchase a 12-count pack of Pedigree ground dog food priced at $8.88 or $8.98 and within seven days $9.99 cashback will have posted in TopCashback accounts. There are three flavor-variety packs to choose between: 'Beef, Liver, Chicken and Beef, Bacon, Cheese'; 'Complete Nutrition Beef and Chicken'; and 'Choice Cuts Beef and Country Stew'.
Choose in-store pick-up, which is subject to the item's availability at the location, and you'll be able to collect the dog chow free of charge within 14 days. The $9.99 will cover the cost of the 12 meals and any sales tax you may possibly be charged, effectively making the 12 meals a grrrrrrrreat freebie for your pooch, a friend's or a neighbor's.
Within 30-90 days the $9.99 should turn payable and can be credited straight to your checking or PayPal account. Alternatively you could opt to be paid in an Amazon .com Gift Certificate, which with its 2.5% bonus on top would mean you'd get $10.23 instead of $9.99.
Anything to Add? Leave a Comment!