This post brought to you by The Orkin Ecologist. All opinions are 100% mine.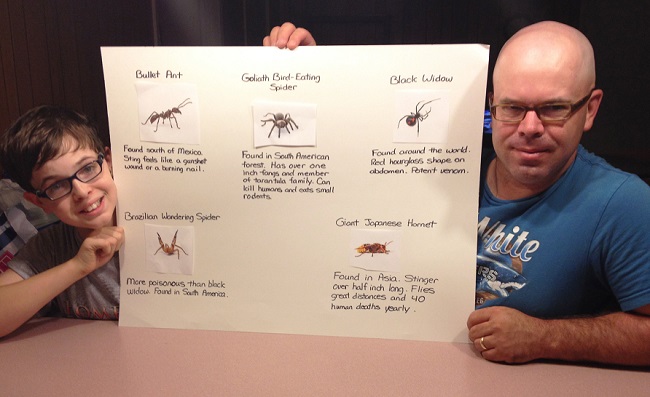 I am always trying to find fun ways to help my son learn more about science and Orkin asked us to create a "Halloween" themed project. My son wanted to do the "scariest" bugs of the world. He thought it would be fun to know why these insects are considered so dangerous as some don't look as scary as other. The spiders definitely look scary. This is a picture of the completed poster that my son and husband did together.
We went to the The Orkin Ecologist website that has lots of fun information that kids can understand and lots of information. I am impressed with the amount of interesting facts that I did not even know. There was a whole section on the world's scariest bugs along with some facts about each one and pictures. We were able to print out the pictures from the website and used some of the facts we learned to label each one. We learned where these insects are found, if they are poisonous or not along with other facts.
One of the spiders we learned about is the Goliath Bird-eating Spider which can eat a small bird. I'm glad they live in the South American Forests and not where I do. That is one scary looking insect and we also learned it is part of the tarantula family. At least they don't have venom that is dangerous for humans but can't say the same thing for small rodents and insects.
The poster we made was a lot of fun including the research. We wrote down each insect and some facts to label the poster. Then we printed the pictures but I did shrink them so it wouldn't print out too large.
Then we cut them out and taped them to the poster like the pictures below.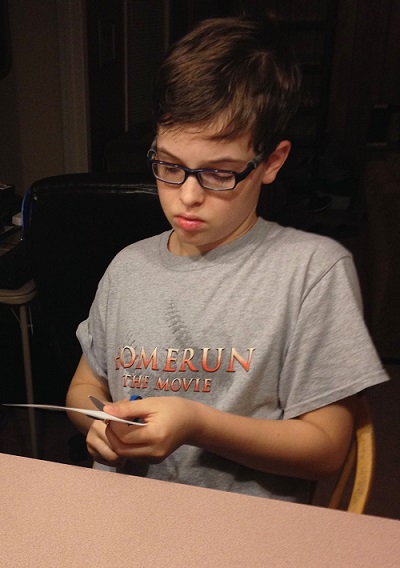 Then label each insect above the picture and add a few facts below.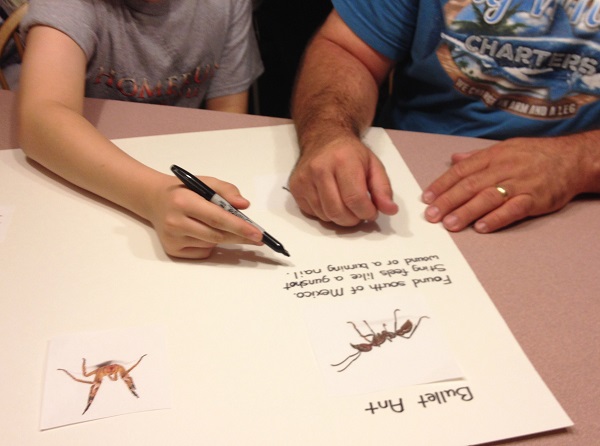 My son was having fun pretending that he was smashing the bugs onto the poster.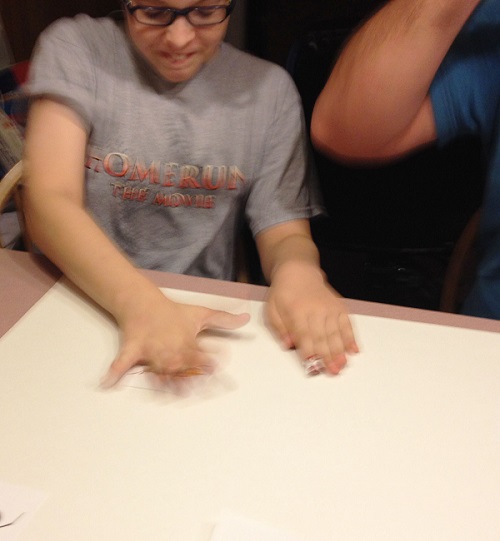 It was a very easy process that anyone can make for themselves and my son was proud for doing most of the work himself and the research part was easy on the Orkin Ecologist site.
The Orkin Ecologist has lots of great information for kids and adults alike. We have bookmarked this site as we are learning so much and great site to help him with school work. Make sure to visit and include your kids. It will surprise you how interested they will be in wanting to explore and the best part is they are learning.
What was your favorite part of the site when you visited? I would love to hear your thoughts.
Anything to Add? Leave a Comment!