This post brought to you by Walmart. All opinions are 100% mine.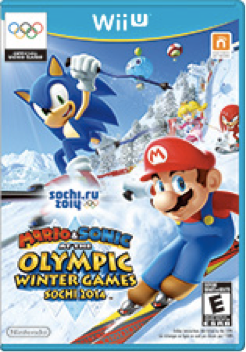 This holiday season your entire family will enjoy playing the Mario & Sonic Sochi 2014 Winter Olympic Games for Wii U™! I grew up when Nintendo first came out in the 80's. I was about 10 years old and it was so much fun playing all the great games like Mario Brothers and Sonic plus so many other games. I still love these characters and my son is now enjoying all these fun characters I grew up playing. We enjoy playing these games together as a family and my favorite character is Princess Peach.
Get ready for the Winter Olympics and play your favorite character by playing the new game Mario & Sonic at the Sochi 2014 Winter Olympic Games! It is coming out in time for me to buy on the Wii U™, and you can buy this epic game at Walmart. I think the Dream Events will add a fun twist to the game as these only take place in the worlds of Mario and Sonic. I love Figure Skating so this will be a fun even I can't wait to play plus teams can help their countries and compete against other players from around the world. Another fun feature is in Bobsleigh where the captain of this four-player event tilts the Wii U™ GamePad controller like a steering wheel to guide the bobsleigh down the track. What is your favorite winter game?
Anything to Add? Leave a Comment!