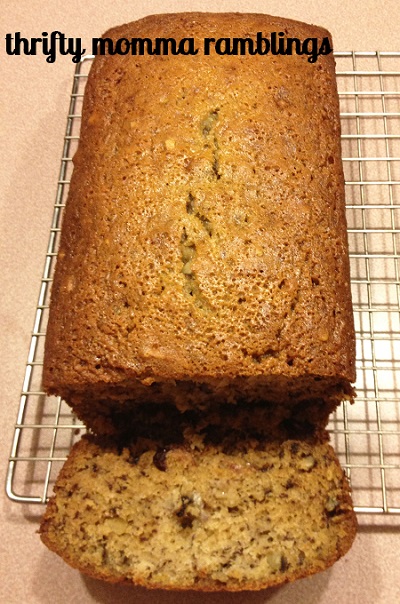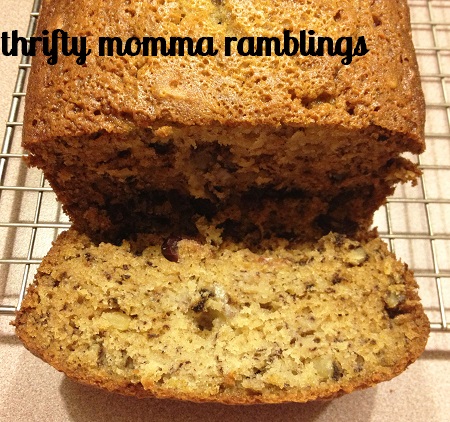 Scrumptious Banana Nut Bread Recipe!
This recipe is a favorite of mine that is useful for banana, zucchini, carrot, sweet potato, and even pumpkin bread!
2 Cups banana, pumpkin or sweet potato or shredded zucchini or carrots.
3 Cups sugar (I sometimes use 1/2 brown sugar so then 2 1/2 white)
1 Cup water
1 Cup cooking oil (I don't know what it would taste like if you wanted to substitute applesauce for part of the oil)
4 eggs
Mix all of them together in a bowl and mix well.
3 1/3 Cups Flour
2 Tsp baking soda
1 Tsp salt
1 Tsp baking powder
3 Tsp cinnamon
1/4 to 3/4 Tbs cloves (to taste)
1 Cup chopped walnuts (or pecans)
1 Cup cranraisins (optional)
Stir these 8 ingredients together and then add to the mixing bowl of the wet ingredients mixing well.
Pour into 2 5″x9″ loaf pans (greased) and Bake at 350 degrees for 60 to 70 minutes!
If you want to make a double batch then just double it all and then freeze the loafs in saran wrap.
This is a great treat for fall and your friends and family will devour them.
Anything to Add? Leave a Comment!