This post brought to you by Buffalo Wild Wings. All opinions are 100% mine.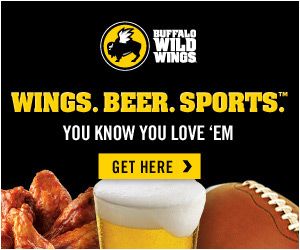 I love to spend time with friends and family over good food. Fall is here which means football has started! My husband is a huge football fan. He loves to watch the games especially college football games. We love to invite our friends and family over to help us watch the game, and we always make sure to get our favorite food which is buffalo wings from Buffalo Wild Wings!
Buffalo Wild Wings is the place to go for fun and football! I know my family is pretty busy keeping up with the kids school and after-school activities. Between driving them around town for art class, karate class, and sports, I want a night during the week I don't have to cook. Wing Tuesday is a great day to enjoy some great wild wings with the family. We all really enjoy to go out on a night that most families don't think about and we all love those great buffalo wings. We cannot get enough of them and my teenage son can eat a lot just by himself! Another great night for some family fun is Boneless Thursday at Buffalo Wild Wings. Weekends are also fun to catch some football and enjoy wings but none of the mess. It might be a chance to send the husband out so you can have some me time.
Make sure to Like Buffalo Wild Wings on Facebook and Follow Buffalo Wild Wings on Twitter and have fun while enjoying great food and spending time with friends and family!
Anything to Add? Leave a Comment!