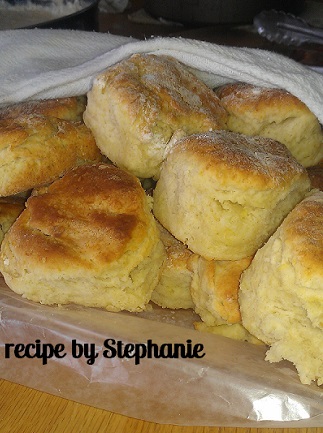 Homemade Buttermilk Biscuits Recipe by Stephanie!
Thanks so much for sharing this delicious recipe and picture!
We made these and they are delicious! Nothing like real buttermilk biscuits made from scratch.
4 cups all purpose flour
1 stick very cold butter
3 tbsp baking powder
1 tsp salt
1 cup very cold buttermilk
1 egg
In large bowl, add flour , salt, and baking powder, mix to combine. Add in chunks of very cold butter and break up with hands until mixture is grainy. Add in egg and stir to combine. Add in buttermilk all at once and stir. Dough will be sticky. Turn out onto a well floured surface, Roll dough out to about 1 inch thickness. Cut with dough cutter, or cup well floured. put biscuits on to a pan sprayed with non stick spray. After cutting biscuits, rest in pan for 15 minutes before cooking. Oven should be set to 425 degrees. and you will bake for 22 minutes. It is very important to let the dough rest before baking. Enjoy.
Anything to Add? Leave a Comment!