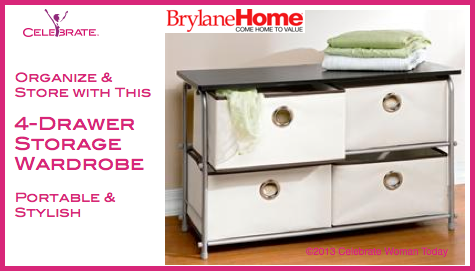 Let's Organize Your Home 4 Winter With
4-Drawer Storage Wardrobe Giveaway
Sep 2-5, 2013
Open to US

I can hardly believe winter is right around the corner? That means bulky sweaters that take up more space along with tights and other winter garments. This storage drawer system is perfect for your home!
Winter months are coming. So are the days when we are spending more time inside our homes.
To make room for a less cluttered home with more light and less dust, we'd love to invite you to check out our prizes that would help you to prepare your closets for a much neater look during this season.
Bringing You Moments To Celebrate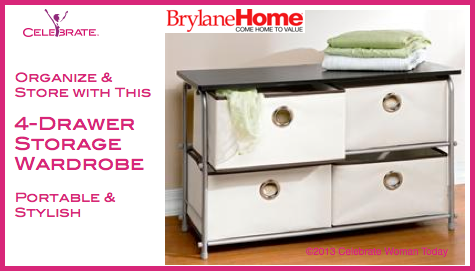 Sponsored by BrylaneHome
Organized by Celebrate Woman Today
We'd like to start with this cool storage wardrobe with four portable drawers. Easily sliding in and out, this accommodation would be a perfect fit for any closet, bedroom or even living room, given your style and home ambiance. Do you have your idea where you'd like to see this nifty organizer in your home?
If yes, then enter this giveaway with your chances to take this 4-Drawer Storage Wardrobe home!
For more ideas, tips and excellent prizes, come to our live celebration of the BrylaneHome generous gifting on September 16, 2013, at 9pm Eastern Time. We'll have prizes galore and surprises tucked in between awesome prizes, too! Find out more details and how to win those prizes at Let's Party And Organize Our Homes For Winter With BrylaneHome.
Prize – 4-Drawer Storage Wardrobe With Portable Drawers

Anything to Add? Leave a Comment!