This post brought to you by Pocket Switchers. All opinions are 100% mine.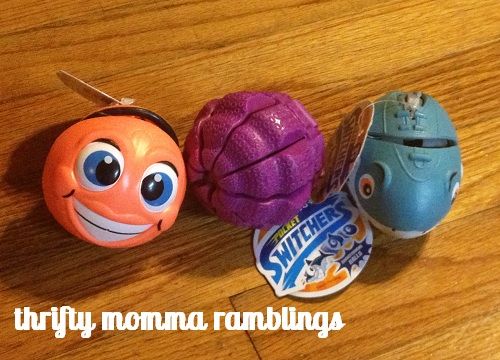 Have you heard of Pocket Switchers transforming balls? Me either until I was asked to let my son review these toys that transform into balls for my blog. Or is it balls that transform into toys? Either way it equals hours of fun for my son! He had such a blast playing with them that he couldn't wait to "review" them for me!
There is a fish, an octopus, and a shark. The shark one has a similar shape to a football and the fish looks more like a basketball as you can see in the pictures. The octopus was the easiest one to transform so really perfect for smaller hands.
His favorite one is the shark as he loves shark toys and loves footballs. As you can see in the picture below, he had fun transforming it from a ball into a toy. He has not stopped playing with them and is having fun just tossing them into the air and catching them. These are easy to transform and I especially love that it keeps him entertained. Plus they are small so easy to take in the car for traveling. I also love that they are made out of rubber so they are durable and easy to clean.
He was showing off his mad basketball skills in the picture above. He was having a lot of fun pretending the orange fish was a basketball and shooting hoops with it.
The Pocket Switcher Transforming Balls would make great a stocking stuffer. These would be great to use as bath toys as well. They are for ages 5 and up and can be found at Walmart stores in the checkout aisle. Your kids will also have lots of fun playing with them.
Anything to Add? Leave a Comment!