Christmas is only 12 days away! I can't believe it's less than 2 weeks away! Hasbro Kre-O Transformers will make a great gift for kids age 6-14 and even the big kids like your husband! My husband still loves to play with building sets and grew up watching Transformers! I think he was more excited to see these Kre-O Transformers sets than my son! My son was extremely excited to see the huge box that the three sets we received to review after he came home from school!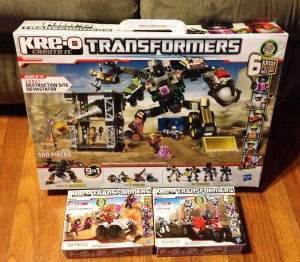 We received the following sets for review:
Cycle Chase set
Decepticon Ambush Set
Destruction Site Devastator
He immediately went to work on the smaller Decepticon and Cycle chase set. Each of these sets contain 4 Kreon figures! Suggested age on building these sets is from 6 to 12 and I could see the younger builders being able to do some of the easier pieces. I think most kids around age 7-8 would be able to put them together without any assistance. These sets will provide hours of fun for your kids after they unwrap the presents. I am hoping this will keep him busy over the long 2 1/2 week break he gets for Christmas so I don't have to hear the I am bored anthem a couple of days after Christmas!

What is especially unique is that they use the same bricks to make either the robots or the vehicles they transform into! The Destruction Site Devastator is where the real fun began as my son is 11 so he is advanced enough to build them by himself. His dad insisted on helping anyway! I agree the age on this site is 8-14 and more for the advanced builder. My son is almost 12 years old, and he has lots of experience putting together big sets so this wasn't too bad for him. He really enjoyed it and he is great at reading the instructions first and getting the pieces sorted before he builds. His dad has taught him well.
As you can see this monster set has 560 pieces either 4 robots, OR 4 vehicles or 1 MEGA ROBOT! WOW! This set is much more time consuming so it will definitely provide a lot of entertainment for the kids especially if an only child like mine. He has only begun to play with it which makes me very happy! You can also buy KREON Micro­‐Changers Mystery Bags for only $2.99 each and they make great and inexpensive stocking stuffers and you never know what exciting Kreon figure they will find that also turns into either a jet or an insect! Just like on the movie!
Definitely check out the KRE-­O Transformers website as the kids can play fun games, and parents look up instructions if they just happen to go missing. That is great! Plus missing a brick, then no problem as you can also look that up on the website. You can also check out the KRE-­‐O Transformers Facebook Page to see comics and other fun features. Don't forget to follow them on the Hasbro twitter page to keep up with news and new features!
Disclaimer: I am part of the Mom It Forward blogger network. Mom It Forward and Hasbro partnered in support of this campaign. Hasbro compensated me for participation in this campaign. However, all thoughts and opinions are 100% my own.
Anything to Add? Leave a Comment!