This post brought to you by Walmart. All opinions are 100% mine.
This holiday season, more and more people need extra help. The nonprofit organizations are struggling just as much as the people needing their services. Walmart is helping by giving away 1.5 Million dollars in grants to benefit the local nonprofit organizations that will help those local communities by providing food, shelter, clothing, diapers and much more!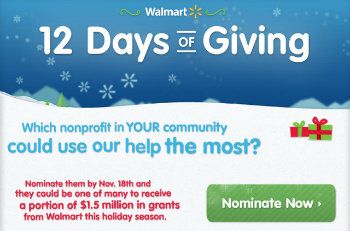 You can go to the 12 Days of Giving Facebook page and vote for local nonprofits. It started on November 1st and you still have until November 18th to vote! It is super easy and doesn't take much time to nominate a local nonprofit. I nominated the local women's shelter in my area as they desperately need more funding to help run the shelter. I donate as much as I can afford as they are always in need of clothes for the women and kids. They also need toys, games, cleaning supplies, food, and personal items. Many of these ladies leave with just the clothes on their backs trying to get out of a bad situation. They don't have anything. There are so many nonprofit organizations that need more help so please go to the page and nominate one.
All you need to nominate is the nonprofits name, contact info, nonprofit website, and the photo is optional. On December 10th, Walmart will start the 12 Days of Giving by announcing the winning nonprofit organizations. So make sure to go vote, and together we can all help to make a difference in the lives of others.
Anything to Add? Leave a Comment!