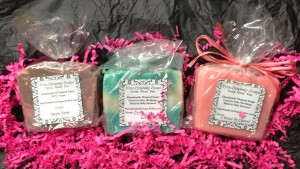 I was thrilled when I was contacted by Pure Simplicity Soaps to review her 100% Vegan soaps! She makes her wonderful soaps by hand the old fashioned way with a modern twist! She also cuts her soap by hand! WOW!
Each soap is wrapped in clear cello, tied with curl ribbon and labeled. I also received lots of curled ribbons in the package! So cute and festive!
I received three scents: Crisp Linen, Apple Spice and Chance by Chanel. These soaps smell as heavenly as they look!
When you see soap that looks like a cupcake who wouldn't be tempted to eat this sweet treat! Remember it is soap no matter how scrumptious it looks!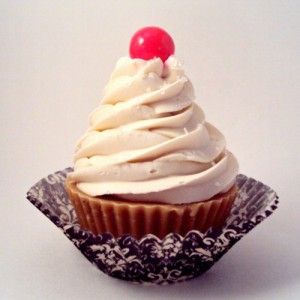 I will admit at first being a tad bit concerned as the Crisp Linen has a small amount of what appears to be glitter on the edge of the soap. It doesn't stay on your skin at all and I couldn't even see it once I started washing. I was so impressed by soft my skin felt while using the soap and even afterwards.
I am always concerned about using soap especially during the winter months as I don't want to dry out my skin. No worries with this soap! It is 100% Vegan and made with lots of skin softening oils like Coconut Oil, Sweet Almond Oil, Shea Butter, Cocoa butter, and more! Pure Simplicity Soaps are perfect to use all year long!
It has a very light scent and not overpowering like a perfume. It's a fresh and light scent, and I especially love how soft my skin feels after bathing. I also smell great so need for a body spray. Even my husband complimented me on how nice I smelled and noticed my skin felt so soft.
Wouldn't this make an amazing gift?!! Make sure to visit her website! She has so many wonderful soaps!
Anything to Add? Leave a Comment!