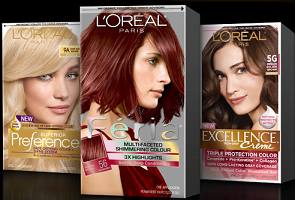 Have you heard about the Cart Buster Sale yet? This sale is good at Kroger and their family of stores which started October 7th and ends on October 20th! Each day there is a new deal which I have been tweeting about on
my Twitter page.
I wanted to discuss some hair color tips that I have found help me to get the best color possible. I get lots of compliments on my hair color and looks very natural.
Many people are very afraid of coloring their own hair at home. I can definitely understand those concerns.
I use Natural Instincts Hair Color which gives me great color at a very affordable price. I can afford to color my hair a little more often by doing it myself.
I am not going more than a shade or two darker than my natural hair color.
I like to use a nice auburn which adds in dark red highlights to my dark brown hair. It looks great in the sunlight.
I always wear an old shirt or old towel before starting. That way it doesn't ruin a good shirt.
Also a good idea to use a drop cloth or towel to stand on in case of any drips.
To prevent staining around your hairline, try using a layer of petroleum jelly which creates a barrier.
I also like to section out my hair before mixing the dye.
I prefer to use gloves like stylists and bought a bag at a beauty supply store for less than $3.00 for a pack. These are much stronger than the ones provided for me in the box.
I have bought a brush made to spread on the hair color which. I just squirt out a decent amount and then spread it out more evenly.
Then I allow it to process, rinse it out and condition. I hope some of these tips help you to color your own hair.
Don't forget to Download a digital coupon for a different product each day straight to your shopper card at the Cart Buster site for great deals on your favorite products at the Kroger Co. Family of Stores!
Disclaimer: I was selected for participation in this campaign as a member of Clever Girls Collective.
Anything to Add? Leave a Comment!