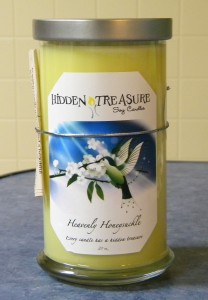 I used to love burning candles a lot before I had children. I stopped as it was just too dangerous, and I know about the electric candles, but to me that is just not the same. Air Freshener doesn't last as long as a nice scented candle. I was thrilled when I was contacted by a new company called Hidden Treasure Candles to review a candle.
Hidden Treasure Candles was started by two sisters who hand pour each all natural soy scented soy candle which is great for the environment. The company is located in Hershey, Pennsylvania which might be why Hot Chocolate is a popular scent. Each candle has an X that marks the spot of a hidden treasure inside each candle hence Hidden Treasure Candles. The treasure you will find inside each candle is either a gold plated or silver plated necklace!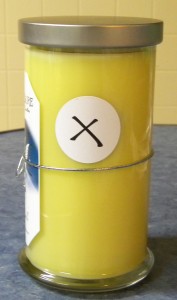 It gets better as if you find the special Treasure Box Charm Necklace, then inside that chest will contain a code for either an iPad 3, a Le Vian Necklace worth $1,000 or, a Tiffany and Co. Pendant worth $5,000!!!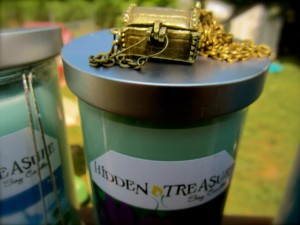 Just burn your candle down to the X marks the spot and you can dig out your foil wrapper to see which beautiful necklace you found! Below is the gold plated necklace with the stunning charm. I love the way the charm looks. I was very pleased and the necklace fit me well.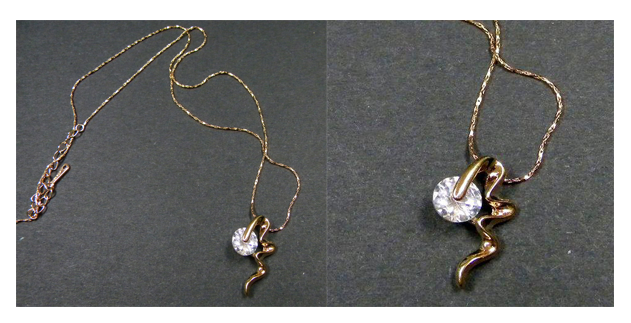 I really loved the candle as well. The hemp wick was nice and long as you can see in the picture. I burned a scent called Heavenly Honeysuckle which did smell heavenly. It was not overpowering and more of a subtle fragrance, but I could still smell it in the next room. What I really love about this candle is the nice glass jar it is poured into, and the nice rubber lid. You do have to push it down the first couple of times, but it does have a nice seal. I let my candle burn for about 2 hours or so before I got impatient and dug out my necklace with a metal spoon. My husband laughed at me but I wanted to see my prize! It was so much fun and the good news is you can smooth it back out after digging it out. OR you could be patient and let it burn down more. Half the fun for me was digging it out. 🙂
I think these candles are reasonable priced for the size you receive and a nice glass jar. Even better is a prize inside each one. Like a cracker jack box except you won't get fat. If I'm going to buy a nice candle, then I love the idea of getting something fun. The foil will not burn or cause a fire or burn the necklace. Overall I give this candle a big thumbs up. I am definitely going to buy these candles as Christmas presents. My mom and mother-in-law love to burn candles so these will be a big hit.
Great news for you is that I was given a second candle to giveaway to one lucky person! The giveaway starts tonight at 9PM EST!
The scent you will receive is Country Blueberry! Yummy!
Please feel free to check out their website Hidden Treasure Candles for more info and and find what other scents they sell. Each candle retails for $24.99 plus $5.99 shipping per candle. They also do run some specials.
*Disclaimer- I did receive a Free candle from Hidden Treasure Candles to review their product. I was given a second one to giveaway to one lucky winner! The opinions are all mine and I was not paid to give a positive review.
Anything to Add? Leave a Comment!