Disclaimer: Tropical Traditions provided me with a free sample of this product to review, and I was under no obligation to review it if I so chose. Nor was I under any obligation to write a positive review or sponsor a product giveaway in return for the free product.
I like all natural products. I try to use them as much as I can since they are better for the environment and for my general health. I really like the fact that they don't contain harsh chemicals or fumes that make me gag when I use them. I was thrilled when I received Tropical Traditions All Purpose Non-Toxic Cleaner to review on my blog! I admit I was skeptical if it would have great cleaning power especially on grease and soap scum. I have very hard water so I definitely wanted to put this cleaner to the test.
The first test was the stove! We had scrambled eggs and cooked bacon which pops lots of grease onto the stove. I sprayed the cleaner all over the stove after removing the burners first. I also let the burners soak in the sink with a capful of the cleaner in the water.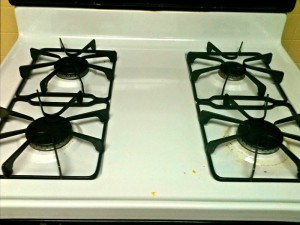 As you can see below the stove top came out very shiny and clean. I did have to use a bit of elbow grease around the buners, but overall it cut the grease easily. It was able to get out some gunk around the burners. I was pleasantly surprised at how well it cleaned.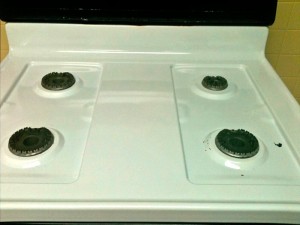 I didn't take pictures, but I also used it on hard water stains around my kitchen faucet that came out. A little elbow grease, but I didn't mind spraying the cleaner in such close proximity. There isn't any harsh chemical smell or fumes. It has a very light scent and not much of a smell. Also, many times I don't want to use harsh cleaners as they are rough on my hands and skin. Not a problem with Tropical Traditions cleaner. As a matter of fact, you can replace your soap with this cleaner. WOW! It does feel good on your skin that I'm not worried about having to wash it off my hands well. It was very nice.
How did it do in the bathroom? I used it on my sink, bathtub, and the toilet! It worked well on soap scum. It didn't take much effort either which was really nice. I usually have to really scrub, but not with this cleaner. I sprayed it and let it sit for several minutes and wiped it clean. I rinsed it and the tub was shiny was as my sink. I was amazed at well it cleaned without having to really scrub.
This cleaner is so versatile. You can use it in the washing machine, dishwasher, clean your car and tires, pre-treat stains, hand cleaner, kitchen, and bathroom! This is very economical as it will replace several cleaners. I do have to say it didn't work extremely well for me as a stain treatment. I dropped some chocolate on my shirt, and sprayed it on right away. I let it sit for almost 30  minutes as per instructions and washed. It got the majority out but it did leave a faint yellow tint where the stain was. I then used my regular one which got it out. I won't say it doesn't work at all, but I would prefer not to use it for stains in the future.
Overall I love the cleaner! I will continue to use Tropical Traditions All Purpose Cleaner in my house. You can also use it rinse fresh fruits and veggies. This is safe to use around food, pets, and children. This environmentally safe botanical mixture contains no harmful detergents or solvents, no perfumes or dyes, and is easy to use! Household Traditions All Purpose Cleaner is an enzyme-based botanical formula that can cut through the toughest grease or dirt, and is completely non-toxic. Better yet you can pronounce all the ingredients! The cleaner is a botanical solution comprised of: purified water, amino acids, minerals and other ingredients derived from leafy green, edible and seed-bearing plants.
Of course I love their Coconut oil. Tropical Traditions is the best place to get Virgin Coconut Oil.
Don't take my word for it, and try it for yourself! Tropical Traditions is giving one lucky person the chance to win a 32 oz bottle of Tropical Traditions All Purpose Cleaner of their own! This is a $8 retail value! All the information is on the Rafflecopter, but it is only opened to residents of the US and Canada only. Tropical Traditions will mail the lucky winner the cleaner. They pack it very well. Your information will not be sold and only used to mail your prize. Good Luck!
Anything to Add? Leave a Comment!