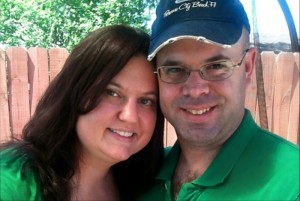 My "Do Over Moment" would be not to have regained half my weight loss. It took me 14 months to lose 100 pounds so not sure why I would gain back 50 pounds? I do know a few of the reasons I became lazy and no longer motivated to stay on top of my weight loss. The picture above is me at my lowest weight in April of 2011 with my husband. I had lost 104 pounds at that point and weighed 189 pounds. I was wearing a size 12 pants and Large in tops. I felt fantastic, had lots of energy, and my face literally glowed as you can see in the picture. I hadn't felt that good in years since I was in my early 20's. I was 36 years old in that picture. I received so many compliments. So what happened?
I think the biggest reason I began to regain the weight back was I went back to school full time. I never finished my college degree and had dropped out after three semesters of school. That would be my next do over moment. I did complete that goal. I began to eat like a college student. I was so busy trying to juggle, school work, my son and husband, and trying to blog. It was just so much easier to eat out for lunch daily and eat out for dinner many nights. I was so tired and stressed trying to get back into the groove of being back in school. I also stopped exercising which I did daily before.
I didn't gain back the weight overnight. It was a slow progression, but the more junk I ate, the more I craved it especially sugar. If I had to do that over again, then I would have definitely prepared meals on the weekends for during the week. I also would have taken advantage of the free gym and exercise classes my University offered their students. I would have made myself more accountable. I also would have reminded myself how great I felt and looked so why would I want to gain weight again. I had so much confidence.
I did graduate this past May with my Associate Degree in General Studies. I'm extremely happy I did finish that life goal, and decided to go back to school again in the Fall to get my Bachelor Degree. Here is a picture of me in my cap and gown but 50 pounds heavier.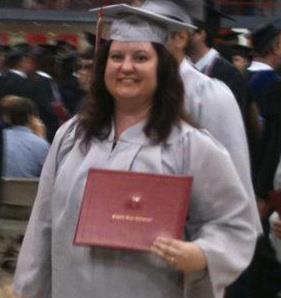 Even better news is that I am on the right path again to losing this weight. I have already lost 8 pounds as well as several inches. I am getting back into my good habits again and am determined now to let anything stop me.
Speaking of do over moments, the Frigidaire Gallery™ Dishwasher gets dishes fully cleaned the first time, so there are no dish do-overs. Nearly half of adults admit to re-washing and/or re-drying dishes after the dishwasher cycle has been completed. To prevent dishwasher do-overs, Frigidaire® is stepping in with its new Gallery® Dishwasher featuring the OrbitCleanTM Wash Arm, ensuring dishes are cleaned right the first time.
I was compensated for this post as a member of Clever Girls Collective. All the opinions expressed here are my own.
Anything to Add? Leave a Comment!