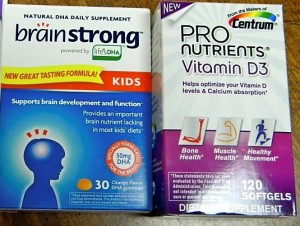 Here is my Walgreens and CVS shopping haul for Sunday, June 3rd! I spent a total of $9.64 and saved $72.94 (or $73) which is 87%!!! I couldn't find the Super $10 Free after Reward supplement and no one around to help me so I'll get it later. I also didn't get the Sidekicks which I will get later. Ignore the bobby pins as I didn't buy that today. It was from last week and I forget sometimes what goes with what sale.
I had to do 2 transactions at Walgreens and received back $11 in Register Rewards. I spent $1.99 at CVS and got back $9.00 in ECB's! Here is what I did to spend less out of pocket.
Walgreens Transaction #1
First I went to vitamin and supplement aisle to get that Answers at Walgreens coupon booklet. My store had 3 coupon book holders so there was plenty.
Bought (1) Brainstrong Kids Gummy- $10.00
Bought (1) Centrum ProNutrients Vitamin D3- $9.99
Bought (2) Palmer Gold coins on clearance- 49 cents x2= $0.98 cents
Used $4/1 Brainstrong
Used $5/1 Centrum ProNutrients printable coupon
Used $7 RR
Used $3 RR
Final Price- $2.94 with tax!
I got back a $10 RR. I saved a total of $24.49!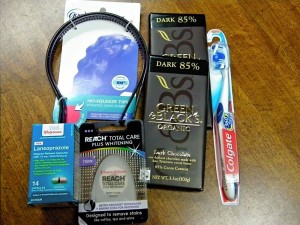 Walgreens Transaction #2
Bought Lansoprazle Caplets is $6.00
Colgate 360 is 2.50
Reach Dental Floss- $2.99
Green & Blacks Dark Chocolate- 2/$4
Goody Ouchless Headbands- $2.00
Used $1.00 off Reach floss coupon (found in aisle)
Used $1.00 Colgate toothbrush (specially marked package)
Used (2) $1 Green & Blacks Chocolate
Used $10 RR
Final Price- $4.73 with tax!
I got back a total of $11 in Register Rewards. I saved a total of $26.45!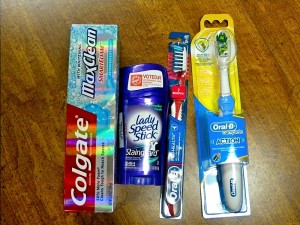 I then went to CVS (right across the highway so that's easy) and got the following!
1 Lady Speedstick deodorant- $2.99
1 Oral-B Toothbrush- $2.77
1 Oral-B Power Toothbrush- $5.99
1 Colgate Max Fresh Toothpaste- $2.74
Used $1 Oral-B Toothbrush
Stacked with $1 CVS toothbrush
Used $1 CVS toothbrush
Used 75 cents toothpaste
Used $1 Speedstick coupon
Used $8.75 in ECB's
Final Price- $1.99! (I paid 99 cents and a $1.00 was tax)!!! I love it!
I received $9.00 in ECB's and saved $21.97! I also received a $1.50 coupon on my register receipt for any shampoo or conditioner purchase. I love those easy to use coupons. I didn't do the Bic razor deal as this store is more limited in stock and didn't have the right razor. I will do it later this week in the bigger town where I have two stores. I already have enough for the $10 P&G Rebate. I just love getting razors to give in gifts baskets I make. My nieces love it!
Anything to Add? Leave a Comment!