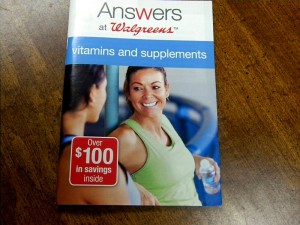 This is the Answers at Walgreens Vitamins and Supplements booklet you can find in the vitamin aisle near the pharmacy in Walgreens. It has the $4.00/1 any Brainstrong Natural DMA supplement. These coupons expire 05/01/13 In 11 more months and the coupons are only good at Walgreens. You will get $4.00 overage.
I used mine on Centrum ProNutrients making it 99 cents after the $5.00/1 Centrum ProNutrient printable here and the Brainstrong!
Anything to Add? Leave a Comment!