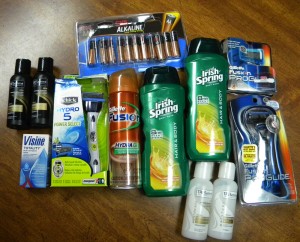 That picture above shows ALL my CVS trips for the week which was 2. I spent a total of $6.12 on both trips. $2.71 for the first trip for a total of 99% Savings combined!!!
This has got to be one of the BEST CVS Shopping hauls I have ever had! My CVS Shopping Haul for Friday was great! I had it planned perfectly and so many great coupons to use. I even bought an extra item I wasn't planning when I got the coupons at the CVS red machine! My subtotal after all coupons was only 5 CENTS! Yes 5 CENTS!!! I basically paid tax which was $3.36 so grand total was $3.41 after tax! I was thrilled and I received a $4 ECB back for the Razor. This is how you can get extreme savings without extreme use of coupons or time. It takes a few seconds to scan your CVS card and receive coupons. Since I do matchups I already knew the hot deals. I did find a great savings when I looked at the Gillette Deal for this past week. I am constantly thinking of how to achieve low totals.
I will say I spent $50 on the iTunes gift cards which gave me the $10 ECB. I bought them for Father's Day presents. One for hubby and the other for my Dad. I would have spent that $50 anyway so why not use it to my advantage and get back something I could use like that $10 ECB! I am going to walk you through my savings. CVS is one of the BEST stores for being able to achieve these super low totals. I honestly love that store!
I bought the following:
1 Gillette Fusion Proglide Razor- $9.99 (which gives you back $4 ECB)
1 Gillette Fusion Shaving Cream- $4.79
1 Gillette Fusion Proglide Razor Cartridges 4pk- $17.79
Subtotal- 32.57
I used the CVS $10/$30 purchase on Gillette shaving products (ALWAYS give the $x off $xx amount coupons first)
1 Buy Cartridge pack and receive Razor free (-9.99)
1 CVS $2 off any Venus or Gillette cartridge
$1/1 MFR Gillette Shaving Cream coupon
Total was $9.58
I needed batteries and had a $3/$10 purchase coupon so I bought the 16pk with 4bns for 20! It was a specially marked package with $10 in CVS brand coupons- $10.49
Used the $3/10 purchase
Total was $7.49
I also bought the $2 on 2 Tressemme Travel Size shampoo for $1.98 on 2 (99 cents each)
FREE plus 2 cents overage
Subtotal is $17.05
$10 ECB
$4 ECB
$3 ECB
Subtotal was 5 cents and $3.36 in tax for a grand total of $3.41 and got back the $4 ECB for the razor!!!
If I hadn't bought the batteries I would have spent $5.58 plus tax if I had rolled just the $4 ECB. I could have saved the $10 ECB for tomorrow. I wanted to keep my cost as low as possible.
Transaction #2
2 Irish Spring 2/$7- Used (2) $1 coupons from SMP
1 Visine- $5.49- Used $3/1 Visine Eyedrops
1 PureLife Water- $2.88 (coupon from machine)
2 Skinny Water- $2.50 (Used BOGO Free coupon)
2 Ozarka Sparkling Water- $1.98 (Used BOGO Free Coupon)
2 Tresemme Samples- $1.98 (used $2 off 2 coupon)
1 Schick Hydropower razor- $8.99 ($4 coupon)
I also used $10 in ECB's and a $5/20 coupon
Subatotal was $0.77 cents with tax for a grand total of $2.71! I saved 98% off!!! Between both trips I had 99% SAVINGS!!!!
Anything to Add? Leave a Comment!