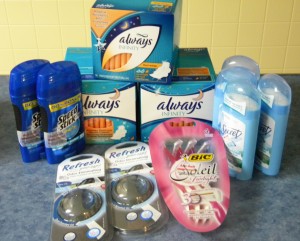 My Family Dollar was having a Grand Re-Opening Sale today! The first 50 people received a FREE $5 gift card and a goody bag! They had some great sales for that flyer as well as the regular store. They had 19-24 load Tide on sale for $4 minus that $1 coupon made it $3! They didn't have HE detergent and it was all fragrance which my family can't use. I'm going to snag the Tide at CVS since I have an extra $1.50 off $10 purchase CVS coupon.
I spent a total of $13.xx and I am getting that $5 Visa card by mail when you spend $25 in P&G! So my actual total is $8.xx after coupons, sales, and gift card, and that promo! My subtotal was $34.50 and here is the breakdown below! I saved over $25 today!!!
(3) Always Infinity- $12.00
(4) Secret Deodorant- $9.00
(2) Febreeze Car Discs- $6.00 ($27 and get that $5 back)
(2) Speed Stick Deodorants- $2.50/2 (promo was 4/$5)
(1) Bic Twilight Disposable Razors – $5
Sub-Total- $34.50
Used $5/25 Family Dollar coupon
Used BOGO Speed Stick coupon- $1.25
Used $12 in MFR coupons
Used my FREE $5 Family Dollar Gift Card
Grand Total- $13.xx with tax!!! (we pay 9% here)
I will mail in for the $5 promo which makes it all $8.xx! I saved a lot today.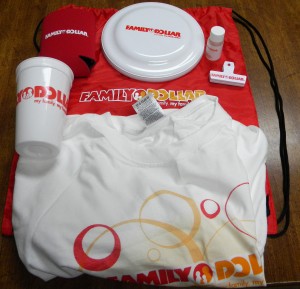 Here is what was inside the FREE goody bag! First the bag itself is one of those backpacks. A size XL t-shirt, frisbee, cup holder, cup, magnet, and anti-bacterial gel. I wasn't expecting that so that was a nice surprise.
Anything to Add? Leave a Comment!