There are two great current rebates for Amazing Spiderman in 3D movie tickets. One is from Keebler and the other one is Kellogg's and Keelber on specially marked packages. Both offers are good until June 30, 2013!!! Yes a full year from now! The tickets do not have to be used on the Spiderman novie!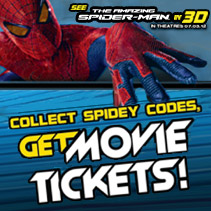 Collect Spidey codes from SMP's of Kellogg's cereals, and redeem as follows:
1 point – "on-line content"
2 points – 3D Movie ticket upgrade
6 points – regular movie ticket
8 points – 3D movie ticket
Visit the website to redeem the codes here. Participating cereals include Kelloggs Pops, Froot Loops, Gripz, Crunchy Nut, Frosted Flakes, Krave, Mini Wheats, Honey Smacks, NutriGrain bars, Raisin Bran, Cocoa Krispies, Crispix, Keebler Grahams, Rice Krispie Treats. Maximum of 30 points may be redeemed during the program, up to 8 codes per day.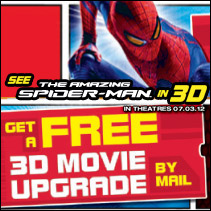 Print the form here for a FREE 3D movie upgrade ticket! You have to find the 2 Spidey offical tokens.
Qualifying Keebler packages
Keebler Chips Deluxe Original
Keebler Chips Deluxe Rainbow Chips
Keebler Fudge Shoppe cookies
Jumbo Fudge Sticks Original
Jumbo Fudge Sticks Peanut Butter
Fudge Stripes
Fudge Sticks
Coconut Dreams
Anything to Add? Leave a Comment!